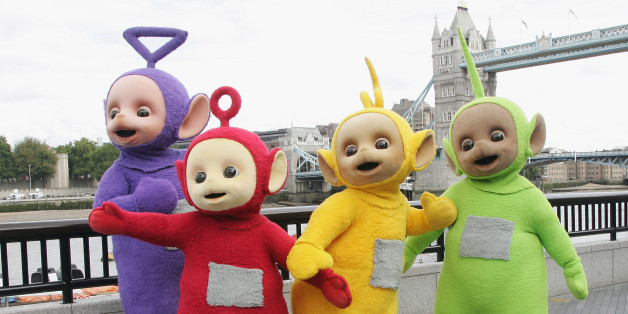 Though Dennis Rodman failed to singlehandedly transform the West's relationship with North Korea, another unlikely group of colorful 1990s "diplomats" might be able do the trick.
Remember Tinky Winky, Dipsy, Laa-Laa and Po? They've been M.I.A. for most of the last decade, but it seems The Teletubbies may be heading to North Korea on a diplomatic mission to "improve [North Koreans'] understanding about the outside world," according to the British Foreign Secretary.
Joining their delegation will be "Dr. Who," "Mr. Bean" and the entire cast of "EastEnders."
In all seriousness, BBC Worldwide is negotiating a broadcasting deal with North Korea's state-run media agency, DPRK. Its aim: to bring several light-hearted television programs — like the previously mentioned Teletubbies — to one of the most strictly controlled countries in the world. And perhaps television is the first step toward normalization with the rest of the world.
Reported in The Independent:
"I have always believed," said a senior source at the Foreign and Commonwealth Office (FCO), "that what brought down the Berlin Wall was not highbrow diplomacy but 'Dallas' and 'Dynasty'."
The Foreign Affairs Committee Chairman called the move a "good use of British soft power," indicating the U.K. may hope to influence North Korea more through cooption than coercion.
The logic, then, is thus: Show North Koreans "Mr. Bean" and they'll dream up their own witty, episodic fantasy — because that's how life works, right?
Once TV viewers in North Korea ostensibly fall in love with British television, though, there's still the problem of their totalitarian government. Disturbing reports from North Korea surfaced in November 2013 about 80 public executions of people accused of watching unsanctioned TV.
One North Korea Intellectual Solidarity official told AFP, "The regime is obviously afraid of potential changes in people's mindsets and is pre-emptively trying to scare people off."
BEFORE YOU GO
PHOTO GALLERY
Pyongyang Celebrates 60th Anniversary Of Armistice