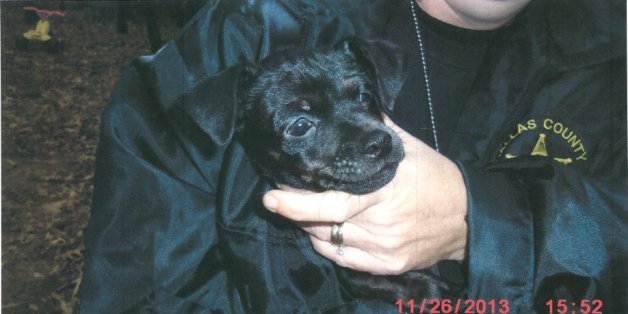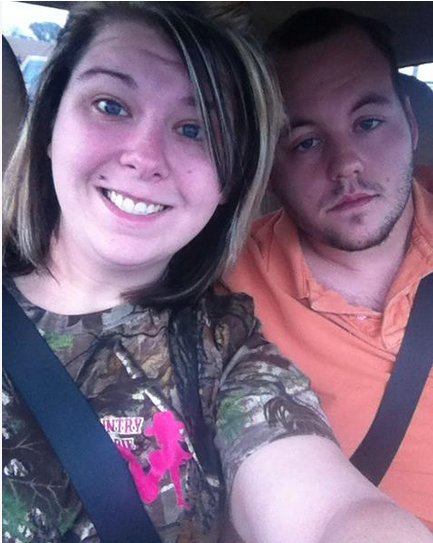 Caroline Dunnam and Andrew Parrish
An Alabama couple was charged with animal cruelty after photos surfaced online of a small puppy being hung from a ceiling.
Caroline Dunnam, 26, and Andrew Parrish, 23, turned themselves in last Friday after authorities accused them of hanging a black mixed breed puppy by the neck from the ceiling of their residence. The dog is four months old.
Dunnam and Parrish took photos of the incident and put them on their Instagram and Facebook accounts, according to WSFA.
Authorities were alerted to the photos and obtained a search warrant to rescue the puppy from the home.
The photos, along with comments from Dunnam's Facebook page criticizing the couple, were quickly deleted. However, records given to the Huffington Post by the Dallas County District Attorney's Office include a photo of the alleged abuse before it was taken off Facebook.
The photo shows the small black dog dangling from the ceiling. The image may be disturbing to some.
DISTURBING IMAGE: CLICK TO VIEW
The photo was titled "My poor baby." Dozens of comments soon poured in, criticizing the couple's actions. Dunnam denied any wrongdoing on Facebook, writing:
"Ur cool reporting my picture over n over if u don't like it get off my page,"
In another response, Dunnam said she didn't care what people thought of her.
"If u have a problem with my personal f---en FB page delete me...I don't give a f--- what anybody on here thinks end of story,"
When authorities finally seized the animal and turned it over to the Selma Animal Hospital, Dunnam wrote another response:
"They came n got my puppy today n r talkin bout putting [Parrish] n jail but yet they slandered our names n called n harassed him at work so they wanna play we will play."
The dog, which suffered only minor injuries, is now waiting to go to a new home. Staff at Selma Animal Hospital have taken to calling the puppy "Timmy," and said the shy dog is beginning to come out of his shell.
"There's just lots of cases like [Timmy's] of people abusing dogs, thinking it's funny to hang them up and not feed them and leave them outside to freeze and fight them," Rebecca Wilson with the Selma Animal Hospital told WSFA. "I think it's a good example for them to prosecute the owners. I think people will think twice about what they're doing before they do it if they know that this is going to happen to them."
Dallas County District Attorney Michael Jackson said the couple will make a court appearance soon. As for ownership of the dog:
"They won't have this one now," Jackson said.
BEFORE YOU GO
PHOTO GALLERY
10 Worst States For Animal Abuse Laws