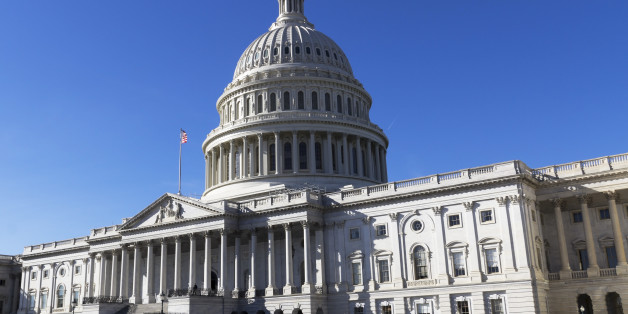 Americans dislike Congress just as much now as they did in December. The polling punditry reacts to another round of Chris Christie numbers. And the ABC News polling team works "spliff" into their lede. This is HuffPollster for Wednesday, January 15, 2014.
'CONGRATULATIONS ON YOUR BUDGET, CONGRESS. AMERICA STILL HATES YOU' - Aaron Blake and Sean Sullivan: "A new Washington Post-ABC News poll shows approval ratings for members in both parties are virtually unchanged. Thirty-four percent of Americans approve of Democrats in Congress -- the same as last month and as in March 2013 -- while 25 percent approve of congressional Republicans -- basically the same as it has been for two years….Cross-partisan and independent approval of each party remains near a 20-year low. That's because, despite Congress having come together for once, basically nobody is under any illusions that this is its new modus operandi. Up until the Obama presidency, it was pretty common for more than 20 percent of Democrats to approve of congressional Republicans and at least 20 percent of Republicans to approve of congressional Democrats. Today, that seems like a pipe dream." [WaPost]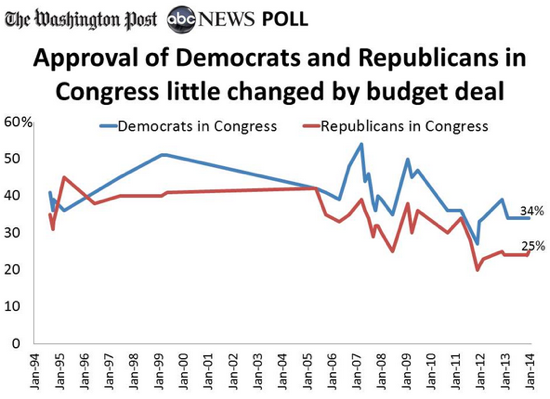 Same poll finds Americans "split on spliff" - Christopher Weiss: "Forty-nine percent in a new ABC News/Washington Post poll support legalizing small amounts of [marijuana] for personal use. Almost exactly the same number, 48 percent, are opposed. Support for legalization is numerically at a new high in ABC/Post polls, albeit only by a single percentage point from its level slightly more than a year ago, and up dramatically from its lows in the mid-1980s and well into the 1990s." [ABC]
CHRISTIE 'BULLY' LABEL FAILS TO STICK IN NJ - HuffPollster: "New Jersey Gov. Chris Christie (R) remains popular among his state's voters, despite the "Bridgegate" scandal, according to a Quinnipiac University poll released Wednesday morning. A 51 percent majority of voters say Christie is honest and trustworthy. Only 40 percent see him as more of a bully than a leader -- a lower number than in 2012. His approval rating, which neared 70 percent last summer, has dropped to a still-solid 55 percent...Nearly all the New Jersey voters polled were aware of the controversy surrounding a scheme by top Christie aides to snarl traffic by closing access lanes to the George Washington Bridge in Fort Lee, N.J. But they are split as to how involved they believe Christie was. Although just 22 percent of voters who'd heard of the scandal thought he personally ordered the traffic jam, 41 percent thought Christie was aware of his aides' actions. If it is proven that Christie knew about the traffic jam, 65 percent of voters say, he should be removed from office." [HuffPost, Quinnipiac]
Marist/NBC finds no change for Christie nationwide - Mark Murray: "Nearly 70 percent of Americans say the bridge-closure scandal engulfing Chris Christie has not changed their opinion about the New Jersey governor, according to a new NBC News/Marist poll. In addition, 44 percent of respondents believe he's telling the truth about his knowledge of the events surrounding the controversy. And far more Americans view him as a strong leader rather than as a bully. [NBC]
Reactions to the post-'Bridgegate' polls:
-Matthew Dowd (R): "Some advice: don't pay attention to polls related to Christie right now. Need time for voters to process what it means. Wait a few weeks." [@matthewjdowd]
-Sean Trende: "Real issue [in the news polls is a] reality check on media convinced this is THE END of Christie's favorable persona...Where it hurts Christie is in the 'invisible primary'...But I don't think many journos would have predicted these #s last week. There is significance there. [@SeanTrendehere and here]
-Harry Enten: "Not that polling is predictive at this stage, but Christie's standing among GOP seems unchanged... while among general public, it's down...Indeed that is seen in both NJ and USA... Against his baseline, Christie is lower among general public. Whether or not that holds is a ?...And for someone whose main argument to GOP and donors is electability, it's not what you want to see." [@ForecasterEnten]
-John Sides: "My sense of whether the scandal will hurt him depends right now on how GOP moderates are reacting. As I noted on Twitter over the weekend, thanks to some tweets from my Post colleague Robert Costa, at least some GOP moderates have expressed support for him, including Rudy Giuliani, John McCain and Karl Rove. So I don't think Christie's candidacy is now doomed, although certainly it could be weakened." [WaPost's Monkey Cage]
-Derek Thompson: The conclusion of researchers David Doherty, Conor M. Dowling, and Michael G. Miller "is that some scandals don't tell us much about enduring character flaws, and voters are willing to overlook them. But scandals that hit closer to the duties of office are harder to forgive...I'm not about to a make a prediction about how tens of millions of Republican voters will savor Bridgegate as a part of the stew of variables they'll have swooshing in their heads in 2016. But if the [political science] research is instructive, it seems to me (a) that wonky political scandals, like retributive bridge-congestion, are often too esoteric for the public to consider deeply, but (b) if Christie does take a hit in the next few weeks, this is precisely the sort of character-of-office scandal that doesn't go away over time." [The Atlantic]
-Jamelle Bouie: "GOP defenders of the governor have noted the extent to which 'Bridgegate' has yet to touch his popularity with the state's voters, as if this were a rebuttal to claims that the scandal could destroy his political future. It isn't. What matters to Christie's chances are the facts of the investigation. If there's proof that Christie was involved the lane closures or the cover-up, then his popularity doesn't matter—he's finished as a potential presidential candidate, and possibly as a governor." [DailyBeast]
MANY AMERICANS MISUNDERSTAND THE FIRST AMENDMENT - Emily Swanson: "More than 4 in 10 Americans think the First Amendment protects them from being fired for what they say, and more than 3 in 10 think it applies to situations like A&E's now-revoked suspension of "Duck Dynasty" star Phil Robertson, according to a HuffPost/YouGov poll. But they're wrong. In the new survey, 45 percent of Americans said the First Amendment does not allow people to be fired from a job for expressing their views, while only 36 percent said such firings are allowed under the Constitution. Twenty percent said they weren't sure." [HuffPost]
PEW RESEARCH UPS CALLS TO CELL PHONES - Kyley McGeeney and Scott Keeter: "Pew Research Center is making an important change in the way that we survey Americans by telephone. In the coming months, 60% of interviews in our national polls will be conducted via cellphones and 40% on landline phones. Over the past year, the ratio has been half cellphone, half landline. We're doing this because more Americans today no longer own landlines and rely only on cellphones...This shift has been gradual. When Pew Research started calling cellphones in 2008, they comprised 25% of our respondents. We increased that percentage to 33% in December 2009, to 40% in July 2011 and finally to 50% in January 2013. According to the most recent report from the CDC's National Center for Health Statistics, four-in-ten U.S. adults owned only a cellphone in 2013...In addition to capturing more of these 'cell onlys', this change also yields a better representation of the nearly one-in-five people (about 18%) who have both kinds of phones but rely primarily on their cellphones." [Pew Research]
HUFFPOLLSTER VIA EMAIL! - You can receive this daily update every weekday via email! Just enter your email address in the box on the upper right corner of this page, and click "sign up." That's all there is to it (and you can unsubscribe anytime).
WEDNESDAY'S 'OUTLIERS' - Links to the best of news at the intersection of polling, politics and political data that we missed during our holiday break (starting with a few new items from today:
-Brookings translates congressional inactivity into a very entertaining Moneyball-themed interactive. [Brookings]
-PPP (D) finds Sen. Jeanne Shaheen (D-N.H.) leading Scott Brown by 3 points. [PPP]
-Government is still seen as the nation's top problem. [Gallup]
-David Hill (R) remembers when a government commission sponsored polling on the relationship between the state and federal governments and argues for a renewal. [The Hill]
-"While inequality is a serious problem," Mark Mellman (D) argues, "it is no one's strongest message." [The Hill]
-Most D.C. residents would like to see marijuana legalized. [WaPost]
-Joe Lenski finds a way to play the Pick Six lotto with those likely to get Bridgegate subpoenas. [@JoeLenski]