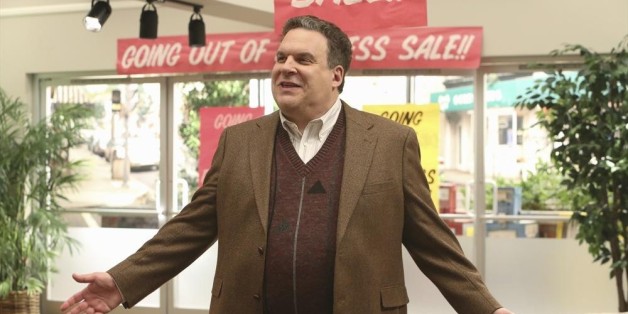 Jeff Garlin knows nothing, but he's not afraid to laugh about it.
"What if I told you -- and I'm not even remotely kidding -- that within a week or two of filming each episode, I completely forgot what I've done?" the star of "The Goldbergs" said over the phone for a quick interview. Each week, he said, is a reminder of what he shot months before.
Adam Goldberg's comedy starring Garlin as Murray Goldberg and "Bridesmaids" alum Wendi McLendon-Covey as his wife Beverly is set in generic '80s suburbia. The couple and their children form a karate-kicking, eight-tracks-listening family of five. But the stylistic choices on "The Goldbergs" -- feathered hair, tracksuits, et al. -- isn't the focus for Garlin. "I don't really pay attention to the '80s stuff as far as the show's concerned," he said. Instead, he draws from real experiences with his own family and his time as a co-star on Larry David's HBO show "Curb Your Enthusiasm."
But, when asked about the possible return of "Curb," Garlin knows nothing as well. "Nothing whatsoever is coming up," he said. "I just heard a rumor about Larry David and Jerry Seinfeld writing, so I have no idea." Larry David's show is known for having an irregular renewal process, only returning at David's insistence.
Of his new role, Garlin says the biggest different is that he has to learn his lines. "But the writing is so good, it's pretty easy," he said. He does get his own improv on there, as he did on HBO, but, again, he can't really remember what's made it into the show. "Something makes it nearly once an episode, but nothing that I even pay attention to."
That said, he does know that his popular comedy podcast, "By The Way," will make its return before the year ends, though he's not sure who he'll interview.
After a few moments of conversation, Garlin gave up. "Why are you talking to me?! I don't know anything!" he said and burst into his trademark laugh. We'll take it.
BEFORE YOU GO
PHOTO GALLERY
ABC's New Shows 2013-2014