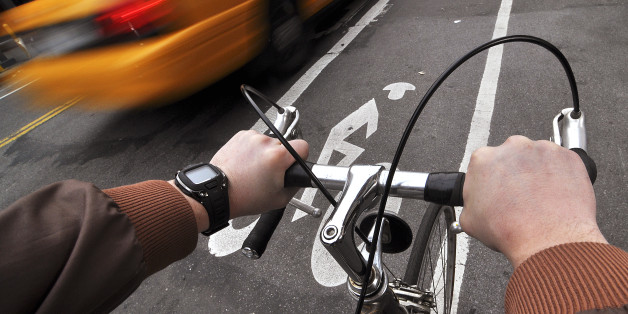 For all the indications that Chicago is becoming an increasingly serious cycling city, a proposal to put a two-mile North Side stretch of Milwaukee Avenue on a bike-and-pedestrian friendly "road diet" has been met with resistance from some neighbors and businesses.
A Chicago Department of Transportation meeting in Gladstone Park turned rowdy Monday as officials introduced the proposal to the community, according to Streetsblog Chicago.
Despite CDOT engineers explaining how the "road diet" -- a five lane-to-three lane conversion with the addition of protected bike lanes -- could reduce crashes, make the street safer for pedestrians and cyclists and boost retail along the stretch of Milwaukee Avenue between Elston and Lawrence Avenues, DNAinfo reports "the idea was met with catcalls, boos and jeers."
One longtime resident was cheered when she told the crowd, "I like the neighborhood the way it is," according to DNAinfo.
Ald. John Arena (45th), meanwhile, tried to encourage residents to see a bigger, more comprehensive transit picture.
"We really need to look at how we use the urban streetscape and make sure that we're not only focused on cars," Arena said, according to Fox Chicago. "There's an axiom that says if you build for cars you get more cars, if you build for people you get more people. That doesn't mean you don't accommodate the cars."
Even though recent trends indicate driving is on the decline in the U.S., many motorists -- even in urban areas -- have trouble envisioning roads that aren't strictly dominated by four-wheeled vehicles.
"Traffic flows just fine in this area, and we love it," neighbor Rose Niedorezo, whose family runs a private children's art center in Jefferson Park, said according to Streetsblog. "One lane in each direction? I just don't see how that can work."
Similar road diets on other Chicago streets have already been successful in reducing speeding cars, such as the newly-installed protected bike lanes to a swath of Vincennes Avenue between 103rd and 84th Streets, Streetsblog notes. As with the proposed Milwaukee Avenue road diet, the changes to the South Side road narrowed and defined car lanes while reducing speeding.
If the largely federally-funded proposal for Milwaukee Avenue passes, CDOT engineer Nathan Rosenberry said the earliest construction could start would be late fall 2014 or early spring 2015. Another community meeting is slated for spring.
BEFORE YOU GO
PHOTO GALLERY
Cities With The Worst Traffic: 24/7 Wall St.