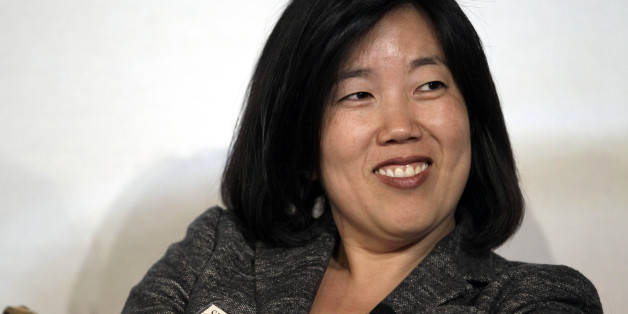 This article comes to us courtesy of U.S. News & World Report, where it was originally published.
Although the nation as a whole and many states have made progress in improving education policies, the majority still received poor grades in terms of implementing policies that will improve academic growth, according to a new report.
StudentsFirst, a K-12 education advocacy group founded by former District of Columbia Public Schools Chancellor Michelle Rhee, released its second annual "State Policy Report Card" evaluation Tuesday, with no states receiving an A grade. In fact, the vast majority of states received D's and F's for the past year, although the number of failing schools decreased from 11 to seven.
"This is a different kind of report card. This is not a reflection of the states' individual schools, nor is it a rating of the current academic levels," Rhee said in a call with reporters Tuesday. "This is an evaluation of whether states have the right policy environment in place that will lead to higher academic growth from where they are today."
[READ: Racial Achievement Gaps Remain Largely Unchanged, Despite Test Score Gains]
The group evaluated states on three policy areas: how well states "attract, retain and recognize quality teachers," how well they give parents easily accessible information about their children's schools and how well they spend public funds to support schools and teachers.
Overall, 38 states improved in at least one policy objective, 19 states improved their overall grades and 16 states approved three or more policies in 2013. Mississippi, for example, led the pack with 10 policy improvements, the report says. The nation as a whole received a grade of D+, but improved its GPA from 1.24 to 1.40.
Topping the list were the same two states that ranked highest on last year's report: Louisiana (B-) and Florida (B-), followed by Indiana (C+). The lowest-ranked state was North Dakota, followed by Montana and Vermont – all of which received F grades.
The report chided North Dakota's lack of a teacher evaluation system that links teacher performance with growth in student learning.
"Furthermore, the state prioritizes seniority, rather than effectiveness, in personnel decisions, making it difficult for schools to develop, value, and retain effective teachers," the report says.
On the other hand, the report highlighted Louisiana's teacher evaluation system and its use of the evaluations in personnel and compensation decisions.
"Strong evaluation systems that recognize excellence, support development, and address ineffectiveness are foundational to improving teacher and principal quality," the report says. "Evaluations must be meaningful, objective, and fair. Louisiana is a leader in this area."
[MORE: Education Reformers Say It's Time for a New Civil Rights Era]
The report also touted the state's school voucher system, which provides scholarships to low-income families who want to transfer their students out of failing schools.
Louisiana Gov. Bobby Jindal, a Republican, said in a statement that the report shows the state is a "national leader for creating innovative education policies that get results for students."
"Our reforms are empowering parents with choice and information by providing them with useful and easy-to-understand data regarding school performance letter grades," Jindal said. "As a result of these options, thousands of students are now learning in the school of their families' choosing instead of being stuck in failing schools."
Opponents of school choice programs, such as voucher systems, have said they take money away from already cash-strapped public schools, and that they in some ways discriminate against low-income families by not providing funds to cover the cost of transportation or school supplies, among other things.
Although some states made notable improvements in the last 12 months, Rhee said change nationwide still is happening much too slowly. Of the 10 lowest-ranking states, for example, seven made no movement among any of the policy areas.
"For those of us who have been in education and education reform for some time, what we know is that this is not a quick or easy process. Nothing is going to happen overnight," Rhee said. "I don't think it is ever the intention that from year to year you're going to see huge increases on the report card, but we are seeing some progress from last year to this year that puts us on the right trajectory."
[ALSO: American Students Fall in International Academic Tests, Chinese Lead the Pack]
One disparity critics have noted in the report is that high-performing states, such as Louisiana and Florida, don't always have the highest student performance on tests like the National Assessment of Educational Progress (NAEP), known as the Nation's Report Card.
In 2013, for example, 26 percent and 23 percent of Louisiana's fourth-graders performed at proficient and advanced levels in math and reading, respectively. Meanwhile, in the lowest-ranking state, North Dakota, 48 percent and 34 percent of fourth-graders scored at proficient and advanced levels in those subjects.
But Eric Lerum, vice president of national policy at StudentsFirst, said that's not surprising. "For the states that have been making the most recent changes, they're probably doing that because they recognize they need to increase student achievement," Lerum said in a call with reporters. "I think over the next couple of years we'll start to see that move, but it's probably too early to see that this year."
BEFORE YOU GO
PHOTO GALLERY
The 10 Smartest People In The World