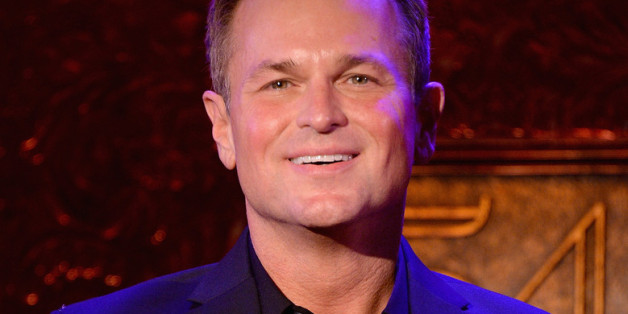 Sam Harris says he approached writing the 16 essays that appear in his first book, Ham: Slices of a Life, with the same vigor displayed on his nine studio albums and in his various stage and screen performances.
"I'm a storyteller, whether I'm doing it through a song or something I've written or something that someone else has written," the 52-year-old actor, singer and first-time author, who shot to fame as the champion of "Star Search" during the show's premiere 1983 season, said. "I'm a punctuation freak and a rhythm freak. It's just a different kind of music."
Ham: Slices of a Life, which hit shelves Jan. 14, pairs Harris's glitzy show business anecdotes with quirky musings on his professional tribulations. Included among the 16 individually titled essays are amusing, yet poignant, recollections about the author's embattled childhood in Sand Springs, Okla., his longtime friendship with Liza Minnelli and his marriage to husband Danny Jacobsen, with whom he tied the knot in 2008. In addition, Harris doesn't shy away from grim details of an adolescent suicide attempt ("As Good As It Gets") or his longtime struggles with substance abuse ("I Know, Baby. I Know").
Sam Harris sings "I Can't Make You Love Me"
"I'm not interested in writing something that's fluffy or just a recounting of something," Harris told The Huffington Post. In fact, he found as much delight in recounting minute details of a seemingly routine, day-to-day activity as he did recalling Minnelli's 2002 wedding to the "Man Whose Name Shall Go Unmentioned" and his one-on-one encounters with stars like Aretha Franklin, Bette Midler and Madonna: "This isn't a tell-all Hollywood book; it's about what something means to me, what something taught me or what I've discovered about myself along the way."
The new collection has drawn the inevitable comparisons to David Sedaris; while each of Harris's essays utilizes the non-linear, non-chronological style favored by Sedaris, his tone is significantly different. Nonetheless, what Harris may lack in Sedaris's razor-sharp wit, he makes up for in refreshingly self-effacing observations and playful, camp humor. Witness Ham's centerpiece "Liver," which sees Harris compare his husband to a washer-dryer set ("It has taken me too long to get through his operator's manual to ever consider a new model") before outlining the blind optimism that has carried him through bleaker moments in both his career and private life. "My experiences of career-liver qualify me as a card-carrying member of the North American Meat Processors Association," he writes.
Sam Harris sings "I Am Changing" from "Dreamgirls"
Although Harris has become an outspoken advocate of lesbian, gay, bisexual and transgender (LGBT) rights in recent years, he kept mum about his sexuality during the early years of his career, even though it was an open secret among his co-stars and industry insiders. It's a point he is particularly frank about throughout Ham: Slices of a Life and says he now regrets in hindsight.
"When I was growing up, there were no role models," he said. "There was not an actor, an athlete or a politician who said they were gay and happy to be so." Of his eventual decision to come out publicly as gay, he added, "There came a point where I was like, 'OK, this is just bullsh*t. I felt like a liar, and I was. If I do have a public platform at all, then I want to talk to that kid who is being bullied and feels alone."
In a move that is sure to please fans of his neo-vaudevillian stage persona, Harris has opted to launch Ham the only way he knows how: extravagantly, theatrically and, most of all, big. He'll introduce fans to the collection with an accompanying "Liter-Usical" tour that will kick off at New York's 54 Below on Jan. 15 and continue with live performances in San Francisco, Hollywood and other U.S. cities. Harris' set will include both pop and Broadway tunes along with spoken segments of Ham: Slices of a Life crafted into a "one-man show that plays like a musical theater piece, with an emotional arc," he said.
Sam Harris on "Star Search"
Pairing a book launch with a concert tour seems like an exasperating venture, particularly for a working father (Harris and Jacobsen adopted their son, Cooper Atticus Harris-Jacobsen, in 2008). But it's one that Harris seems to be taking in stride, citing "the patience of a saint" that parenthood has taught him, and he's hoping that Ham is just the first step in his literary journey.
"It's something I hope to be doing more of … exploring stories about my childhood, show business, parenting and marriage, and continuing to find a voice and a perspective about events in my life than seem singular or unusual," he said. As for a prospective title, he added with a laugh, "Well, the first book was called Ham, maybe the second one should be called Cheese."

Sam Harris kicks off his Ham: Slices of a Life 'Liter-Usical' show at New York's 54 Below on Jan. 15. Check out more information on his NYC show here; more details on additional dates here.


BEFORE YOU GO
PHOTO GALLERY
Upcoming At NYC's 54 Below