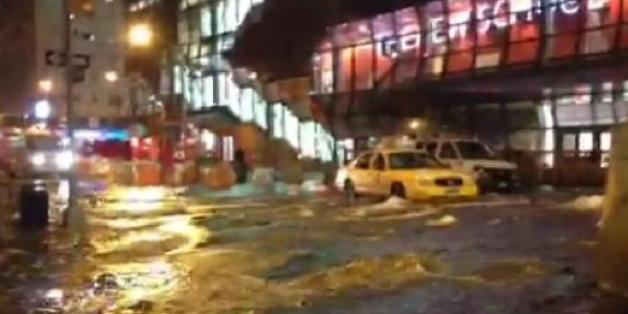 By Trevor Kapp
GREENWICH VILLAGE — A century-old water main broke on 13th Street and Fifth Avenue early Wednesday, sending water spewing into the streets and snarling subway service across the area, according to fire officials and reports.
The 36-inch pipe broke around 12:10 a.m. and quickly spread to several nearby subway lines. It was not brought under control until about 5:30 a.m., fire and transit officials said.
The break caused massive disruptions along the B, C, D, E, F, M and Q lines, the MTA said.
The agency advised straphangers to "anticipate major delays" during the morning rush.
Buses in the area were also being detoured due to street closures, the MTA said.
DEP Deputy Commissioner Jim Roberts told reporters that the main dates back to 1900, which played a significant role in the break.
"This is an old main. We'd be naive to think that wasn't a major factor," he said, according to Time Warner Cable News NY1.
"The freeze thaw, the real cold, then the warming up doesn't help any of the water-supply systems."