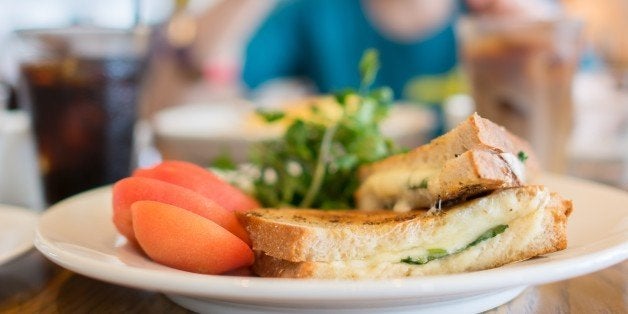 U.S. adults are consuming fewer calories and cutting how much they eat when dining out, according to a new government report.
The report, released Thursday (Jan. 16) by the U.S. Department of Agriculture, shows that from 2005-06 to 2009-10, U.S. adults decreased the average amount of calories they consumed each day by 118 calories, which is a 5 percent decrease. (After accounting for demographic factors, the decrease in calorie intake between those two time periods drops to 3.4 percent).
Meanwhile, calories consumed via food away from home dropped between 2005-06 and 2009-10 by 127 calories each day. When looking at total calorie intake over a day, the share of calories from food eaten outside the home decreased 4.75 percent.
The daily calorie intake specifically from fast food restaurants also decreased by 53 calories each day from 2005-06 to 2009-10.
And not only are Americans eating less, they also seem to be eating healthier. The report showed that the shares of fat and saturated fat calories decreased between 2005-06 and 2009-10, as did cholesterol intake. Meanwhile, fiber intake increased over this time.
However, the report's author, USDA economist Jessica Todd, told The Wall Street Journal that the improvements in diet healthfulness had less to do with "decline in food away from home consumption" and more to do with "an increase in consumer focus on nutrition in selecting foods, changes in the quality of foods available and greater nutritional information available to consumers."
Indeed, the report states that "less than 20 percent of the improvements in diet quality could be attributed to decreased [food away from home] consumption." The authors of the report found that compared with in 2007-08, in 2009-10 more people read the Nutrition Facts Panel or health claims on food packages "always or most of the time" during food shopping, and also spent more time thinking about nutrition of the food they were purchasing while grocery shopping. And between these two time periods, adults were also less likely to say that thinness or fatness is just something you're born with, "suggesting that more individuals recognize weight is within individual control."
The report also showed a positive trend toward eating more meals at home -- in 2007-08, working-age adults in households with at least two people, in addition to children, said they ate 5.80 meals a week at home. That number rose to 6.29 meals a week at home in 2009-10. And for this same demographic, the number of meals prepared at home every week rose from 5.35 in 2007-2008 to 5.77 in 2009-10.
It's "great news that family meals are on the rise. A healthy family doesn't just eat nutritious foods, they also eat together around the table," Dawn Jackson Blatner, a registered dietitian who wasn't involved in the new report, told USA Today. "We have more control over ingredient quality and portions when we cook at home. More home-cooked meals is one trend that I'd like to see go viral."
The findings of the report are based on data from 9,839 people who participated in the National Health and Nutrition Examination Survey.