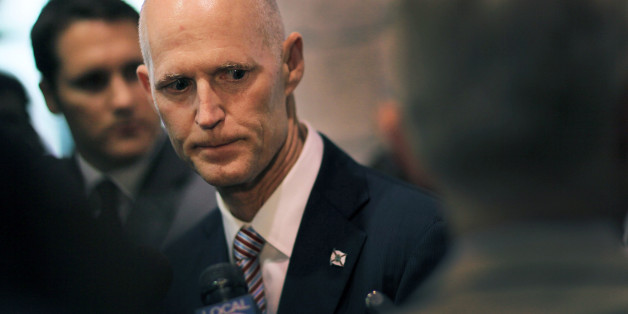 Things have not gotten any smoother between Florida Governor Rick Scott (R) and the state's black lawmakers.
The 28-member Legislative Black Caucus canceled a previously requested meeting with Scott on Wednesday, saying the planned lunch discussion would be "fruitless."
"There are a number of issues that we've met with his staff on, and met with him on, and still, no action," caucus chair Rep. Alan B. Williams (D-Tallahassee) told Tallahassee.com. "They decided that this meeting wasn't going to be a good use of our time."
Scott's increasingly uneasy relationship with the caucus began at their first meeting in February 2011, when the newly installed governor suggested all of the caucus members grew up poor.
"I grew up probably in the same situation as you guys," Scott told the group. "I started school in public housing. My dad had a sixth-grade education."
The remark came just after Scott moved to end state support for two historically black colleges and shutter an office dedicated to helping minority-owned businesses sign state contracts.
Wednesday, Williams sent a hand-delivered cancelation letter to Scott that listed the group's ongoing frustrations and called for greater diversity in Scott's administration. Reports the Tampa Bay Times:
The letter cited caucus priorities such as expanding affordable health care with more federal money, appointing more black judges, easing restoration of civil rights for ex-felons and ending the "purging" of suspected noncitizens from the voter rolls "for apparent partisan gain."

Scott is a Republican and every caucus member but one is a Democrat, but Williams said the cancellation was not politically motivated.

"It's not meant to be disrespectful," Williams said. "It's meant to show our frustration."
The News Service of Florida reports Scott's press secretary said in a written statement that the governor was "disappointed" about the cancelation and offered to meet with any of the black lawmakers one-on-one.
According to Tallahassee.com, no one showed up.
BEFORE YOU GO
PHOTO GALLERY
Dream Defenders Hold Sit-In At Rick Scott Office