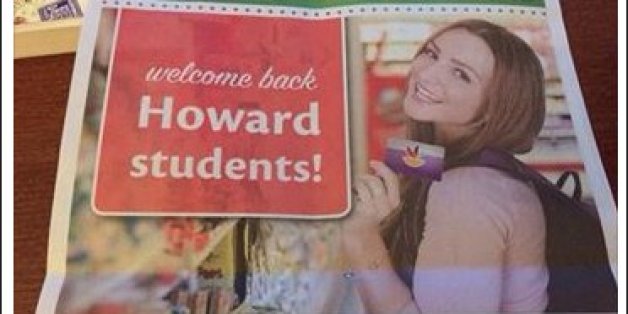 There's nothing like being welcomed back to campus with open arms after a long break. But some university students were baffled when they saw an ad in a local grocery circular celebrating their return, featuring a model that didn't accurately reflect the student population.
Coeds and alumni at Howard University, a historically black college, were surprised to see this image in the Giant grocery store circular when classes started earlier this week, and they took their grievances to Twitter.
Applauding Giant for reaching out to my alma mater @HowardU but this was a #marketingfail on their team http://t.co/ZkXG5R0flP @TopShelfWBJ

— Thomas Houston (@Thomas4Change) January 13, 2014
The store issued an apology after a local station reached out for a comment.
"Unfortunately an incorrect stock photo was used in the ad and we apologize for this oversight," Jamie Miller, spokesman for Giant, told WTOP in an email. "We wish all Howard University students a successful semester."
The station also pointed out that the tweets were directed at the wrong branch of Giant supermarkets, however, they were still responsive.
"I'll take reasons to get fired for $500, Alex." Epic Fail @GiantFoodStores
http://t.co/VB4Y0mIIEo

— Shawna Renee (@shawnareneelive) January 13, 2014
@shawnareneelive Our sister co Giant in DC apologizes that their ad agency used a pic that wasn't reflective of Howard & will address w/them

— Giant Food Stores (@GiantFoodStores) January 13, 2014
The students and alumni speaking out on twitter appeared to be more confused than offended -- blaming the incident on lazy marketing rather than racism.
It isn't the first time students have used Twitter to spark discussions around race and race relations on college campuses. In November, students at the University of Michigan launched a #BBUM hashtag to foster conversation about "Being Black at the University of Michigan," inspiring other schools to launch their own conversations.

BEFORE YOU GO
PHOTO GALLERY
Racist Moments: 2013 Edition