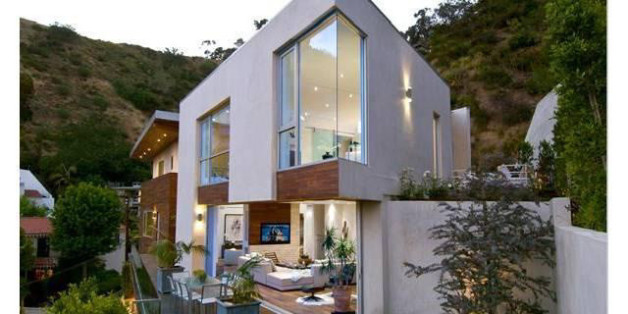 If you've an extra $32,000 a month you'd like to spend then this is your opportunity to live like a Playboy (or at least rent like one). Though this deal can't guarantee the gorgeous grotto, breathtaking grounds that house a full zoo or glamorous vintage game room spotted over at the Playboy Mansion, according to a Relator.com listing, the property bought for the new Mrs. Hefner in her mother's name, is officially on the market.
And while it may pale in comparison to the Playboy Mansion itself, the ultra-modern, four-bedroom, five-bath home, which was built in 2011, still has some pretty impressive features of its own that any renter would enjoy. Purchased for an estimated $4.9 million in May of last year so his 27-year-old wife would have a roof over her head when he's away, the Hollywood Hills estate includes a deluxe master suite with telescoping doors, custom floating wood staircases and a white glass infinity pool and spa, all situated on 5,917 square feet.
But if you're more of a buyer and not a renter, then we suggest you wait a bit longer. Though the pair has been happily married since the winter of 2012, Harris ditched her blonde hair for a new 'do earlier this month. And seeing as Hef hasn't dated a brunette since the 70s, there's always a chance the home will be up for sale if the wedded bliss comes to a screeching halt...
Photos courtesy of Realtor.com
PHOTO GALLERY
Hef's New Home For Crystal Harris