Attempting to definitively determine the most spectacular goal that Lionel Messi has ever scored for Barcelona can be an endeavor as wondrously frustrating as trying to calculate which structure built by architect Antoni Guadi in the Catalan capital required the most inspiration. Both masters of their craft produced multiple masterpieces worthy of repeat viewings with rare combinations of artistic flare and mechanical ingenuity.
The 26-year-old Barcelona talisman added to his body of work with a remarkable golazo on Thursday that turned Getafe's Coliseum Alfonso Perez into his own personal Park Guell. With Barcelona already leading Getafe 1-0 in their Copa Del Rey match, Messi embarked on a thrilling solo slalom through the defense to double the advantage in the 63rd minute.
The four-time Ballon d'Or winner began his diagonal right-to-left run to goal by leaping over the outstretched leg of midfielder Michel. After hurdling that lunging tackle attempt approximately 30 yards from goal, Messi accelerated, driving the ball into the teeth of the Getafe back line.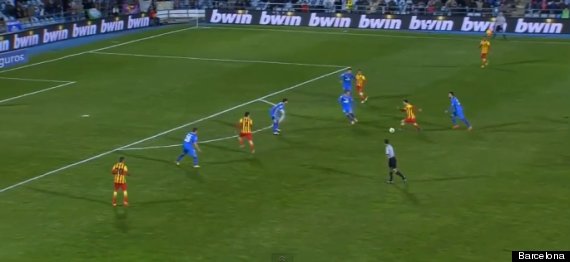 With Rafa and Lisandro Lopez patrolling the center of the field outside the home penalty area, Messi veered to his left to keep the former on his right. Messi then slipped between the defenders before they could close off his path.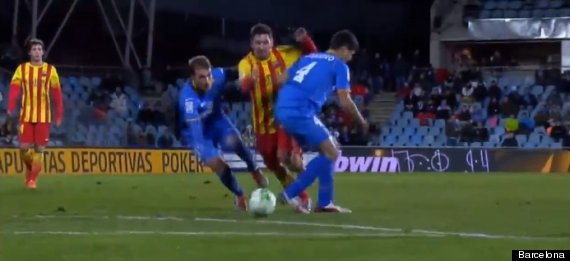 With those three behind him, Messi continued drifting left across the mouth of the goal. He rolled the ball into the penalty area behind Carlos Vigaray and caught up to it before the defender could track back.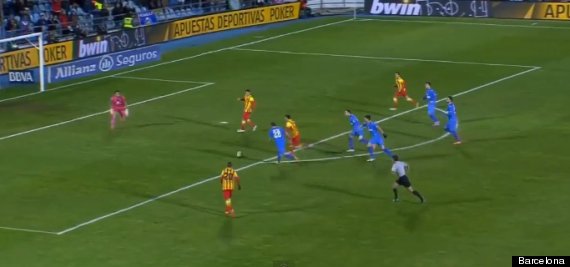 With no defenders left to halt Messi's progress, goalkeeper Jordi Codina came off his line. Capping the scintillating diagonal dash through the defense in fitting style, Messi rounded Codina and scored from a tight angle. After the ball rolled into the back of the home net, there was just one thing left for Messi to do: celebrate.
BEFORE YOU GO
PHOTO GALLERY
PHOTOS: Barcelona vs. Getafe