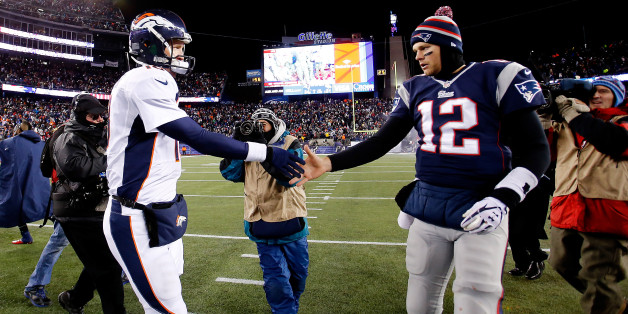 "Championship Sunday" of the NFL playoffs is otherwise known to many as the best day in pro football. While the Super Bowl is glitz, glamor and half-time bonanza, the AFC and NFC Championships pit familiar foes against one another, and 2014 is no different. Peyton Manning and Tom Brady? Yes! But how about two teams that gave us one of the best regular season games of the year?
With that in mind, here are the key match-ups to watch come Sunday.
New England at Denver: Tom Brady vs. Broncos secondary
As lethal as Manning was via the air this year, the Broncos secondary was almost as bad, surrendering 254 yards and ranking 27th in pass yards against. If Brady has time to throw and go through his progressions, as he did in the Pats' Week 12 win, he will find a rhythm. In two games against a Jack Del Rio-coached Denver defense, Brady has completed 70 percent of his passes, with four touchdowns and no interceptions.
Remember, the Broncos are missing All-Pro Von Miller (who sacked Brady twice in Week 12) and defensive end Derek Wolfe, meaning they will have to generate a pass-rush in more creative ways. Perhaps just as importantly, they will be without starting cornerback Chris Harris Jr., who tore his ACL during last week's victory over San Diego. Harris Jr. played the most defensive snaps in the regular season of any Bronco, and he was versatile enough to line up all over the field. One option for Denver is to blitz the corners, an idea Del Rio has not opposed in the past. But don't be fooled into thinking the normally upright Brady is untouchable. The 40 times he was sacked totaled the most ever for his career during a full 16-game season. Then again, he is 10-4 in his career against Manning, and his clutch play cannot be questioned: Brady's career playoff record is 18-7. Those 18 wins are a record for postseason wins by a quarterback -- two ahead of the great Joe Montana.
Demaryius Thomas vs. Aqib Talib
Talib, whom New England acquired after Week 8 from Tampa Bay, is a Pro-Bowl corner -- he'll fight receivers at the line of scrimmage, but also cover down the field. Thomas (1,430 yards and 14 touchdowns in the regular season), is Manning's best weapon because of his remarkable size and speed. And yet, with Talib matching up against him during Week 12, he was held to a season low of 41 yards.
One of the devastating components of this offense is Manning's ability to get the ball out of his hands so quickly. While Wes Welker, Eric Decker and Julius Thomas are all terrific targets, its Demaryius Thomas who gets the most bubble screens and the most targets vertically. According to Pro Football Focus, he was the only receiver to see 125 or more targets, catch at least 65 percent of passes thrown his way, and average over 15 yards per catch.
In that Week 12 loss though, Manning was held to season lows in completions (19), completion percentage (53) and yards (150). If he cannot locate Thomas, Talib, in effect, will have taken away Denver's best game-breaker.
For more Championship Sunday coverage, click here and here.
Email me at jordan.schultz@huffingtonpost.com or ask me questions about anything sports-related at @Schultz_Report and follow me on Instagram @Schultz_Report. Also, be sure and catch my NBC Sports Radio show, Kup and Schultz, which airs Sunday mornings from 9-12 ET, right here.
BEFORE YOU GO