If you've seen one beach wedding, you've probably seen them all: flowers strewn about the sand, barefoot bridal parties, setting suns and, of course, tiki torches -- lots of tiki torches.
Hawaii is home to the standard beachside affair, but it's also given rise to the perfect antidote: refreshingly alternative nuptials that eschew the sand and welcome originality.
Consider the six ceremony spots below and try to remember why beachside weddings were ever really a thing to begin with.
1. Wed by a waterfall.
Straying from the beach doesn't necessarily mean abandoning water. Hawaii boasts a variety of picturesque waterfalls, many of which are easily accessible. Waimea Falls, for instance, on Oahu's north shore is only a gentle walk through a manicured garden. Others are a bit more challenging to reach, but definitely worth it. Kauai island's secluded Wailele Falls in Kalihiwai Valley is only accessible via a 4-wheel-drive vehicle.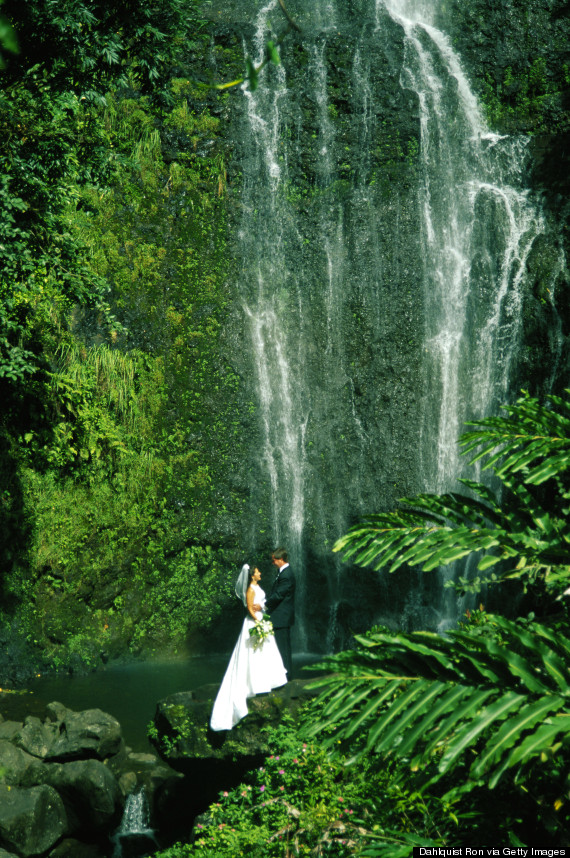 2. Embrace the waves -- and each other.
If you're looking for a truly unique wedding, hit the surf. Say "I do" over crystal blue waters while on a wooden outrigger canoe. Your guests, assuming they're up for it, will watch from their own (extra wide and stable!) paddleboards, guaranteeing a wedding experience that no one will ever forget. Your guests don't even need to get wet!
3. Marry in the lavender fields.
Imagine rolling hills of green and violet, 4,000 feet above a Maui mountaintop, the smell of lavender blowing through the wind. No, this isn't a dream, it's your wedding atop the 13.5 acre Alii Kula Lavender Farm on Maui. The seemingly endless fields, which sit on a gentle slope of Haleakala Mountain, provide the world's most idyllic setting for a countryside wedding.
Insider tip: If you're up for it, ask to book a sunrise wedding. When you see the rays of morning light softly reaching through the lavender fields, you'll definitely want to thank us.
4. Get hitched on a boat.
Nothing screams fun more than a bridal party on a boat. A floating wedding is the perfect mix of excitement and romance for couples with a sense of adventure. Station your boat just off the harbor, as in the picture below at the Kaneohe Yacht Club, or venture to more secluded waters for a more intimate ceremony.
Captain's tip: If your reception is also on the boat, try and count how many times your guests sing Lonely Island's "I'm On A Boat!" If it passes more than 35 times, it's probably time to cut off the open bar.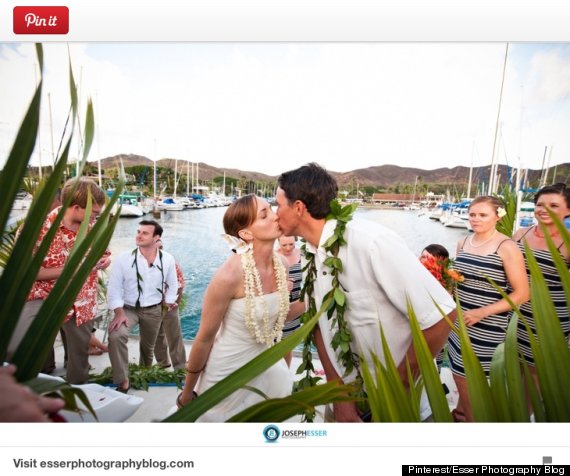 5. Go back in time at an old sugar mill.
What was once an old sugar mill -- one of Hawaii's first -- is now a beautifully restored open-sky cathedral, draped in a lush garden of vines and flora. The Haiku Mill on the island of Maui will make your guests feel as though time has stopped. With its French elegance and old Hawaiian feel, the mill and its stone-paved garden are the perfect settings for a vintage-style wedding.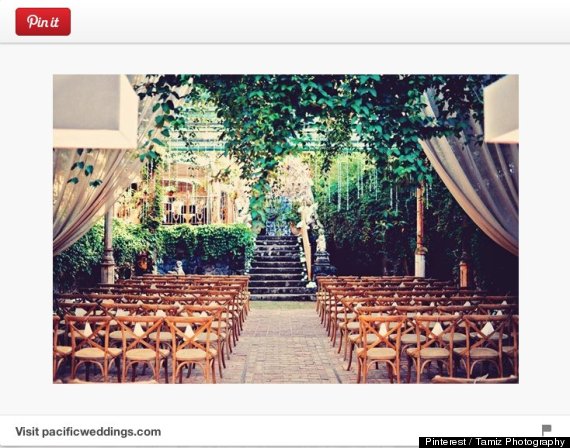 6. Travel to your own private, island.
A 10-minute boat ride takes you to the Kaneohe sandbar, a raised section of sand in the middle of the Kaneohe Bay. At high tide, water levels reach waist height. At low tide, the sandbar becomes almost like a miniature island, with water sometimes reaching just passed the toes.
While a full-length wedding might be impossible (unless you're ready to take on the rising waters), a short wedding ceremony and toast would be fantastically original.
Keep in touch! Check out HuffPost Weddings on Facebook, Twitter and Pinterest.
BEFORE YOU GO
PHOTO GALLERY
50 Ideas for Beach Weddings