India is officially on course to defeat polio, giving health advocates renewed hope that they can put an end to other preventable diseases.
Just five years ago, health experts never thought the crippling disease could be overcome in such a densely populated country rife with poor sanitation. But India's accomplishment in eradicating polio is now giving the country -- and health advocates across the globe -- confidence that an end can be reached for many more preventable diseases. A polio-affected boy asks for alms from Muslims entering the mosque for Friday prayers in Bangalore, India.
Half a decade ago, India accounted for half of all new poliovirus cases worldwide. When Dr. Mathew Varghese, an orthopedic surgeon at India's last polio ward, started working at St. Stephens Hospital in Delhi more than 20 years ago, there were 3,000 new polio cases each year in the city alone. He never thought he'd see the end of polio in India in his lifetime, he said in an interview this month with the Gates Foundation, which was published on the organization's blog, Impatient Optimists.
The disease, which is usually spread via contaminated drinking water, attacks the central nervous system, causing paralysis, muscular atrophy, deformation and even death, according to the Associated Press. In developing countries like India, polio survivors also struggle with social stigma, reports the Times of India -- survivors are discriminated against, struggle to get jobs and often are forced to resort to begging.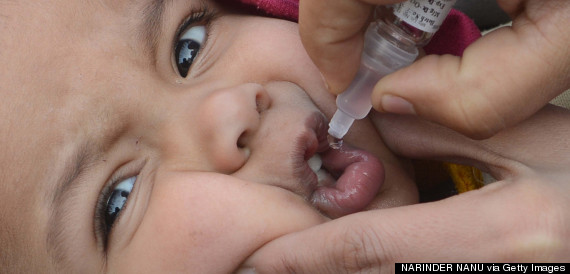 A child receives polio vaccination drops from a medical volunteer during an immunization drive in Amritsar on Jan. 20, 2013.
Monday marked three years since India last reported case of polio. That milestone, which will enable the country to declare itself polio-free later this year, is being attributed to an aggressive vaccination campaign. The government, along with the Global Polio Eradication Initiative and Rotary International deployed nearly 2.5 million volunteers, doctors and medical workers to vaccinate children, even those in far-flung rural places, over the course of three years.
The last registered polio patient in India is Rukhsar Khatoon, 4, who was 18 months old when she was paralyzed by the disease, according to the Impatient Optimists blog. After extensive therapy, Rukhsar is now able to walk with little evidence of symptoms.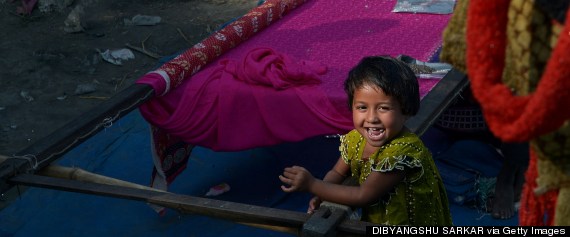 Rukhsar Khatoon, the last polio patient registered in India, plays outside her home in Shapara village at the Panchla block, about 40 kms west of Kolkata.
For health advocates on the ground in India, like Varghese, seeing empty polio wards is a "dream realized." It's also confirmation that so much more pain and suffering can be eradicated.
Bill Gates, has made ridding the world of the disease a priority of his foundation. He noted in his blog that since so many children in need have now been identified in India through the vaccination effort, they can also be treated for other health issues and can get access to clean water. And the final three countries that haven't stopped the transmission of polio -- Nigeria, Pakistan and Afghanistan -- have reason to believe that they can, too.
"India showed us what is possible -- we can end polio, and protect all children everywhere from this debilitating disease forever," Gates wrote. "Doing the hard work to make this dream come true is up to us."
BEFORE YOU GO
PHOTO GALLERY
Top 10 Polio Facts