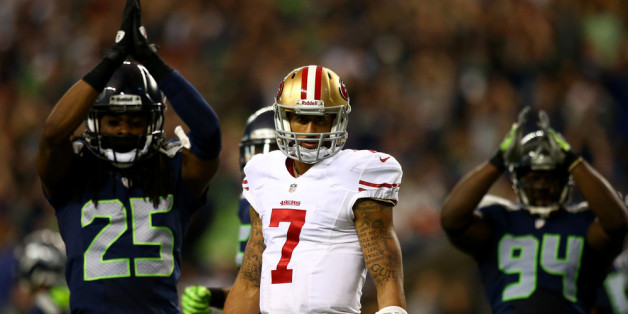 The NFC Championship game may not have a Peyton Manning or a Tom Brady, but it does have two excellent football teams with the best rivalry in the league over the past couple seasons.
And the antipathy extends beyond the field to the head coaches, as well. It's no secret that Jim Harbaugh and Pete Carroll aren't exactly friends, and the Seahawks even blocked 49er fans from buying tickets to Sunday's game.
Let's take a look at the key matchups between these bitter rivals.
Russell Wilson vs. 49ers Linebackers
Wilson has not been throwing the ball well in his last five games: His 145 passing yards per game would rank last in the league, based on performance in the regular season (his regular season average was 210). Normally composed in the pocket, he has looked off his reads faster than usual, trying instead to extend plays with his legs even when he doesn't have to. To be fair, he has faced a brutal stretch of defenses -- San Francisco, New York Giants, Arizona and New Orleans -- all of which rank in the top 10 in yards allowed. The question becomes: Can he keep his composure against an extremely talented 49ers defense that blanked opponents in nearly half of the quarters they've played this season?
Seattle can be a lethal screen team with Marshawn Lynch out of the backfield, but that becomes a challenge with San Francisco's stellar trio of Pro Bowl linebackers, Patrick Willis, Ahmad Brooks and NaVorro Bowman. They are a crucial reason why this defense allows a mere 17 points per game, third-best in the NFL. Come Sunday, Wilson needs to fight the urge to scramble early in plays, because this defense is too fast and disciplined.
The X-factor is likely to be electric wide receiver Percy Harvin, whose status remains up in the air after suffering a concussion against the Saints. The Seahawks receivers, especially Golden Tate, must do a better job of breaking off jams at the line of scrimmage and make themselves available for Wilson. Things go awry when Wilson has to hold the football for too long, and with ace pass-rushers Justin Smith and Aldon Smith, the 49ers will make his life very difficult.
Colin Kaepernick vs. Seahawks' Secondary
Ever since receiver Michael Crabtree returned to the lineup, Kaepernick has exploded as one of the league's hottest quarterbacks, leading the 49ers to eight straight wins. Harbaugh's opinion of Crabtree's hands may be a bit exaggerated, but not by much. Crabtree doesn't have Harvin's elite speed, but his first step and hands have given this offense an entirely new dimension.
He will have to match up against the trio of Pro Bowlers in Seattle's secondary, including first-team All-Pros in cornerback Richard Sherman and free safety Earl Thomas.
Sherman doesn't sport a catchy nickname, but statistics show he is every bit as dominant, if not more so, than Darrelle Revis was three years ago. According to Pro Football Focus, when quarterbacks threw to the player covered by Sherman, they had an passer rating of 47.3 -- the lowest produced by any cornerback in the NFL. Sherman will jam Crabtree almost every snap and use his sensational length on the back end of plays to make up for any separation.
Thomas on his side is a ball hawk with incredible instincts and the closing speed to cover and tackle. Kaepernick was picked off by both men in Seattle's Week 2 home win. In fact, during his previous two games in Seattle -- in which the Seahawks outscored the 49ers by a combined 55 points -- Kaepernick has thrown just one touchdown pass and four interceptions.
For more Championship Sunday coverage, click here and here.
Email me at jordan.schultz@huffingtonpost.com or ask me questions about anything sports-related at @Schultz_Report and follow me on Instagram @Schultz_Report. Also, be sure and catch my NBC Sports Radio show, Kup and Schultz, which airs Sunday mornings from 9-12 ET, right here.
BEFORE YOU GO