Target's recent effort to regain the trust of its shoppers after a credit card security breach seems to have backfired. Customers, it seems, are still on edge when it comes to the retailer.
The company was the victim of a security breach during the holiday shopping season that compromised around 40 million customer credit cards. In response, Target sent an email to those who may have been affected by the breach offering a year's worth of free credit monitoring and identity theft insurance. The services are offered through Experian and can help prevent customers from being victims of credit card and identity theft.
But many of those customers believe the email is a hoax. It's not.
"[The email] is an official communication," a Target spokesperson told The Huffington Post in an email. Here's what Target shoppers received: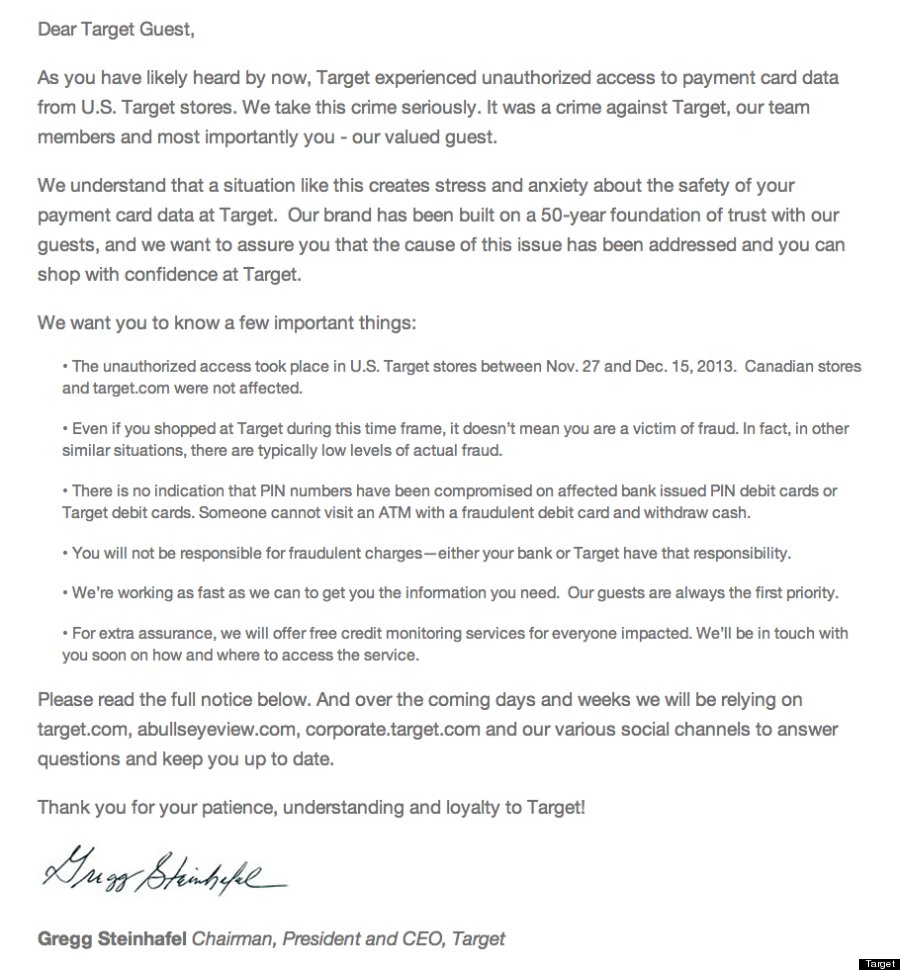 The suspicion seemed to arise from the fact that the message came from what some perceived to be a suspect email address. Again, it's not.
beware, I just got a phishing email from TargetNews@target.bfi0.com

— Brad Lassey (@blassey) January 16, 2014
Got credit monitoring offer from targetnews@target.bfi0.com.

Marking as spam.

— Brian Windheim (@brianwindheim) January 16, 2014
Consumers were also wary of a similar message posted to the company's Facebook page.
The offer was also mentioned in an open letter from CEO Gregg Steinhafel. But Reuters's reported this week that some customers were hesitant about sharing personal information in order to take advantage of the monitoring.
"I won't put my Social Security number in. They try to help you, but they're asking for more information," 51-year-old Pam Kassner told Reuters. Concerns like Kassner's are addressed by Target here.
Customers can visit Target.com/databreach to review "all official communication regarding the data breach," according to Target.
(H/T: Business Insider)