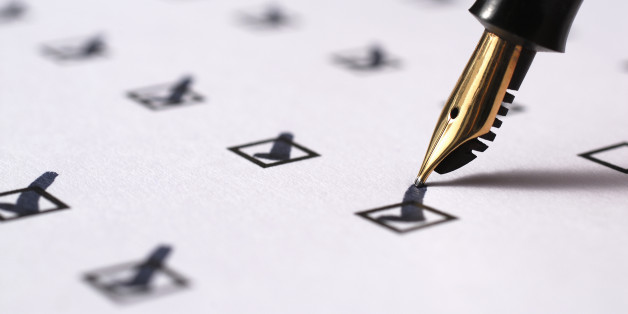 The Census Bureau explains how it might use administrative and third party data to assist in the 2020 Census. Republicans lament continuing polling misfires. And on slow Fridays, pollsters tell jokes. Or at least try. This is HuffPollster for Friday, January 17, 2014.
ABOUT THAT CENSUS AND 'DATA AGGREGATORS' STORY... - Last week, HuffPollster passed along a story by Kantar/CMAG's Elizabeth Wilner on how the Census is studying the potential use of "administrative" government data and data from third party "data aggregators" (commercial data broker companies like Acxiom and Experian that compile detailed databases on U.S. consumers) in conducting the 2020 Decennial Census. Wilner's piece quoted Burton Reist, chief of planning and research for the 2020 Census explaining that third party data might be useful in "gathering information to help us contact a household," adding later, "we've never used administrative records to actually enumerate a household before." [HuffPollster, Cook Political]
Reist's comments got "imaginations going" among some of the data authorities Wilner interviewed. The potential for "circular logic," for example, worried Cook Political's David Wasserman: "For years, private data aggregators have relied on Census data," he said. "For the Census Bureau to rely on, or integrate aggregation techniques pioneered by private vendors would mark an inflection point, a point at which federal numbers crunchers acknowledge their traditional interviews and forms should be complemented by new methods." [Cook Political]
What's the full story? - It may help to think of the Decennial Census as two distinct operations. The first involves constructing a massive list of all of the housing units, or places where people live (houses and apartment buildings as well as dormitories, nursing homes, etc.), known formally as the Master Address File (MAF). The second is the effort to "enumerate" (or count) every person at each address through paper forms sent by mail and in-person follow-up when the forms are not returned.
In a follow-up interview with HuffPollster, Reist explained that the Census has already used administrative data in past decades, in the form of the "delivery sequence file" maintained by the U.S. Postal Service, to help create its master address list. Nevertheless, according to Reist, just before the 2010 Census, the government still sent 160,000 paid workers to "walk every street and check every housing unit to make sure we have it right" (with the exception of especially remote sections of Alaska and northwestern Maine).
"We know from our own research," Reist explained, "that while we canvass the entire country only about 10 to 20 percent of the housing units actually change. Most housing units, most neighborhoods remain stable decade to decade, so if we can just focus our address listing operations on those areas that are experiencing significant change we can save a lot of money." So the Census is exploring whether they can reduce costs with a more targeted check of the address lists.
Reist also explained how government administrative data may assist with the second "enumeration" phase of the Census: "One of the most fruitful areas of research when we're trying to hold [the] costs of the Census down," Reist says, "is to look at other data that people have already given the government." He stressed that these are not data culled from other government surveys. "It's actually data that people provide to the government in the forms they fill out for the government. It's social security data. It's data that's on housing forms, the veterans' administration, HHS" and so on.
The administrative data might come into play for households that do not return their Census form. "We're likely still going to knock on the door of a non-responding household once, or reach out to them, maybe call them," Reist explained. "But if we have a reasonable assurance that we have an accurate picture of that household from the systems administrative records that we're building, we can go ahead and enumerate that household using that information without actually having to get an interview." Given the massive costs of the field operation, he added, this potential use of administrative data "is one of the biggest places where we can save money in doing the Census."
In contrast, Reist sees more limited potential applications for third party data. One example: "We might use third party data to get information about a household we need to contact, so if we can find a phone number for that household we might use that phone number from a third party data [provider] as a way of calling that household to get information from them, because if we can call them it's better than if we have to send someone out to knock on their door. It's less intrusive. It's also cheaper." But he all but rules out the use of third party data as a substitute for official counting: "It's very likely, we're virtually certain that third party data wouldn't be used in actually enumerating a household."
"This is all research right now," Reist stresses. "This is stuff that we're doing to figure out if we can do it, how well we can do it." He adds that they are "working very closely with the Congress and our national advisory committee" as well as a panel of prominent privacy advocates. "We recognize that the public has concerns about the use of data this way, and we want to make sure that we're in step with what the public is comfortable with us doing."
GOP POLLS OFF IN VA '13? - Eliana Johnson: "For two days last week, Republican strategists, political consultants, and digital gurus convened in a sleek, wood-paneled conference room on the third floor of New York City's Standard hotel. Their mission: to reverse the fortunes of the Republican party by leveraging voter data, technology, and public opinion to win elections...The biggest hurdle is translating these efforts into electoral victories, and there the signs are less inspiring. When numerous polls showed Democratic candidate Terry McAuliffe with a comfortable lead against Republican Ken Cuccinelli in the Virginia governor's race, the RNC simply stopped investing in television ads and voter-mobilization efforts. 'We had twelve months to get the polling right,' says Yale political scientist Luke Thompson, a consultant to the NRSC. Yet the party, relying on internal polls that had McAuliffe cruising to a seven-point victory, spent just $3 million on the race, compared with the $9 million it expended in 2009. 'McAuliffe's people knew all along it was going to be a two-point race,' Thompson says." [National Review]
OVERHEARD ON TWITTER - An exchange between two pollsters, the Tarrance Group's Logan Dobson (R) and MassINC's Steve Koczela of MassINC:
Dobson: "Following up on PPP a few days ago, Rasmussen also has Republicans leading the Michigan Senate Race."
Koczela: "Reminds me of the joke about 3 economists hunting."
Dobson: "Go on."
Koczela: "One shoots left, one shoots right, the third doesn't shoot, but instead jumps up and down yelling 'We hit it!' #SorryTwitter" [@SKoczela]
And because it's a slow Friday... - Also via Twitter, American Viewpoint's David Kanevsky (R): "If the NSA got into the business of providing sample, that would make pollsters very happy. #PollsterHumor" [@davidkanevsky]
HUFFPOLLSTER VIA EMAIL! - You can receive this daily update every weekday via email! Just enter your email address in the box on the upper right corner of this page, and click "sign up." That's all there is to it (and you can unsubscribe anytime).
FRIDAY'S 'OUTLIERS' - Links to the best of news at the intersection of polling, politics and political data that we missed during our holiday break (starting with a few new items from today:
-50 percent of Americans are wary of investing in the stock market. [Gallup]
-29 percent of Americans want to phase out the penny. [Rasmussen Reports]
-New Yorkers consider former Mayor Mike Bloomberg a success. [Quinnipiac]
-Kathy Frankovic reviews the limits Americans want to place on NSA data. [YouGov]
-A Case Western professor offers a look back at history through Depression- and war-era polling. [Slate]
-A strong contender for this year's "Cutest Outlier" says hello. [@FlowingData]