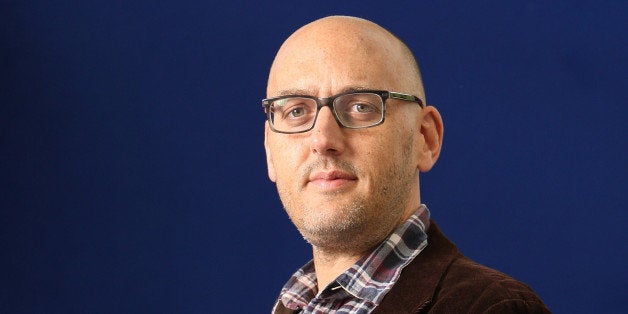 Brief Interviews is a new series in which writers discuss language, literature, and a handful of Proustian personality questions.
Ben Marcus is the author of three novels, including The Flame Alphabet, Notable American Women, and The Age of Wire and String. He's a winner of the Pushcart Prize and the Whiting Writer's Award, and edits The Anchor Book of New American Short Stories. His latest short story collection, Leaving the Sea [Knopf, $25.95], was published this month.
Where do you like to read?
Here on earth is fine. Mostly in bed. But when I read in bed I tend to fall asleep, so I try to remain sitting. I like to read on an airplane, with some white noise in my ears. Planes are great for their imprisonment. There's nowhere to go and nothing to do but read. Or I can take meds and turn off my life. On a plane I'll stick with a book longer, push through any distractions, and come to enjoy something I have no patience for back on land. I should have a tiny closet at home, with a chair inside, and a seat belt. I'd read more, better, longer. I feel strange reading at my desk, because I think of it as a space reserved for writing. I'm afraid to recline during the day. I imagine my supervisor catching me asleep on the couch. I think I'm afraid of sleeping in any open space. I sometimes go to a family spa, in Queens, NY, where there are sleep rooms – men sprawled out all over the place, flagrantly sleeping. I really admire them.
I was rejected, and instead I went to NYU, where I studied philosophy. It was my fallback. I think I imagined I might become a teacher of philosophy, but I grew disillusioned with my studies once I encountered those thinkers who seemed fully certain of their own ideas, more sure. Certainty is a powerful turn off for me. This was a great disappointment in my studies, but it led me to realize that uncertainty is alive and well, is really thriving, in certain kinds of literature.
What books might your readers be surprised that you enjoy?
I love cookbooks, not just for the lust they inspire, the way they cause an immediate physical reaction in my body—craven hunger, desire—followed by drooling. How many short stories can make the body go haywire like that? Novels? Maybe it's not a fair comparison, because the pictures tend to help – cookbooks with no pictures can seem fairly joyless. But the real reason I love cookbooks is the degree of fantasy they allow. I imagine myself making tremendous, delicious meals, then feeding people who might otherwise never even speak to me.
What bothers you most about the English language today?
Perhaps only how little we understand it. We know, from certain poems and stories we've read, from specific texts of any genre, that the language can cause the most intense derangement of feeling inside us, that it can be as powerful as any drug. But we can't regulate this, or really produce any kind of useful rules of grammar or syntax, not to mention narrative, in order to reliably produce these results in the bodies of others. If this bothers me, it is the good kind of bothered. As in, hot and bothered. Although I don't enjoy that expression. Horniness has been so poorly described, historically, and this is no exception.

What is your least favorite word? Why?
It's two words, my name. First and last. I don't want to write it here. I find it very disturbing to look at. It seems so scarily inadequate to me, such a reminder of how little we really amount to, as individual people. That a person can be signalled in such a way, with a name or two, feels so depressing to me. Names should be hundreds of pages long. Or perhaps a person's name is overstated? A little bit wordy? Perhaps a two word name is too much. Maybe I haven't earned it yet. I don't know. I find my personal name uncanny and disturbing and wildly inaccurate.

What word or phrase do you overuse?
"At all." As in, "there were no people left in the city at all." I seem too often to worry that more emphasis is needed, that the case hasn't been made. When I do a global search on any first draft of mine, I find hundreds of instances of this phrase. I really don't like it at all.
Which books are currently in your to-read pile?
Kyle Minor, Praying Drunk. Katherine Faw Morris, Young God. MFA VS NYC, edited by Chad Harbach. And, because I have just started work on the editing of a new anthology of short stories, I am playing catch-up with some terrific story writers, such as Peter Orner, Claire Vaye Watkins, Edith Pearlman, Jamie Quatro, Ramona Ausubel, and Dennis Cooper.
Who are your literary heroes?
Franz Kafka, Jorge Luis Borges, Deborah Eisenberg, J.M. Coetzee, Kazuo Ishiguro, Jane Bowles, Flannery O'Connor, Thomas Bernhard.

What is the first book you truly loved?
The Lion, the Witch, and the Wardrobe, by C.S. Lewis. I remember this book more vividly than my actual childhood, which seems to have contained many disposable moments.
If you could only recommend one book, which would it be?
Ovid's Metamorphoses. It's my narrative alpha dog. There's something deeply medicinal about it, a favored and highly reliable drug. As a writer you can just keep tearing off little pieces of it, translating them into new languages, using them as putty for your own projects, and the body of it is just never diminished. Is there a story the Metamorphoses doesn't somehow already contain? Probably, but it still comes close to being the most complete, and dangerous, narrative weapons locker there is.