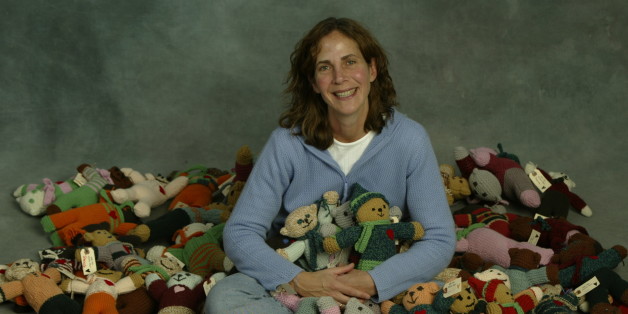 One of the reasons I started my website is that I wanted a place for women to come together and dream. We women need to know that we don't have to hang on to an old dream that has stopped nurturing us -- that there is always time to start a new dream. This week's story is about a woman who read a story about an epidemic affecting children in Africa, and felt compelled to help somehow. She's now reached over 100,000 children with her non-profit organization that provides comfort to kids that need it most. -- Marlo, MarloThomas.com
By Lori Weiss
As Amy Berman stood off to the side of the truck that was transporting her through rural Namibia, she watched as her driver repaired a tire that had been shredded by the rough roads. Leopards, baboons, giraffes and warthogs had followed her journey throughout the day, and the mother of two from suburban Minneapolis was keenly aware that she was stranded in lion country.
But what weighed most heavily on her mind at that moment was not the thought of lions, it was bears. There were hundreds and hundreds of hand knitted bears in the back of that vehicle and Amy was determined to get them into the hands of children whose lives had been touched by HIV and AIDS.
"There are less than 30,000 lions in all of Africa. But as of today," Amy laughed, "there are 95,200 bears!"
Amy is the mother behind the Mother Bear Project -- an accidental non-profit, as she likes to call it -- one that she never really meant to start. The mother of two was living a simple life in Minnetonka, Minnesota. She was working as an advertising sales rep and raising her children -- until one day she read a magazine article that mentioned the problem of the "virgin cure" in Africa -- a myth that has led many men to believe that having sex with a virgin, including infants and toddlers, will cure them of AIDS, a disease that has reached pandemic proportions in Sub-Saharan Africa.
"At first I spent a moment just horrified beyond belief," Amy recalled. "And then I wanted to know more. I went to the internet and I could see that these men were looking for voiceless victims. The article mentioned that South African police were asking for items of comfort for these children. I knew I had to do something. It was just a matter of what. And within 24 hours, I figured it out."
Amy thought about what had brought her own children comfort -- and her eyes turned to the knitted bears tucked neatly in their beds. Her mother had knitted them, following a pattern from World War II, which was used by women in England to make bears for children they had sent off to safer ground.
"She made one with braces for my daughter, Anna, who was 11 and wearing them at the time. And she made one for my son, Zach, with only one eyebrow -- because she always kissed him on his left eyebrow. Each one represented a personal kind of comfort and love -- the unconditional love my mother had always shown me and my kids."
"That's what I wanted to send the children in Africa -- not just the children who had been raped, but children who had been born with HIV or had lost a parent to AIDS --all the children who had been impacted by this awful pandemic."
There was just one little thing standing in Amy's way. She didn't know how to knit. But with a quick lesson from her mom, Amy not only knitted her first bear -- she began recruiting women throughout Minneapolis and St. Paul to join her.
"I took the pattern and re-wrote it," she said, "so that it would be easy to understand. It's really as simple as knitting a scarf, which for most people is a starter project. And I started carrying around copies of the article. I'd bring them to my son's tennis games and give them to the other moms to read, which is so completely out of character for me, to ask people I barely know to read something!"
"Then I did something even more out of character -- I started cleaning and baking and inviting groups of 30 women to my home every Friday morning. All they had to do was promise me they'd make a bear and I'd teach them how to knit -- which is crazy, because I'm not crafty myself -- but I was motivated."
All photos subject to copyright. Unauthorized use of these photos will result in legal action.
Within weeks of sending the first shipment of bears to a police agency in Africa, word spread like wildfire in the Twin Cities. It wasn't long before Amy received a call from her local paper, the Star Tribune.
"I knew I had to have a plan before the reporter came out. At that point I didn't even have a name for what I was doing. But my son liked to call me 'Mother Bear,' so I began there. I decided that I would charge a few dollars for each pattern to cover the 'bear fare' it would take to ship each one to Africa. And I wanted each one to have two things -- a tag that would be signed by the Mother Bear who made it and a red heart sewn on the outside."
"I remember my husband asking how I knew kids in Africa would know a heart meant love. I didn't know, but I was determined to send comfort and I was going to have a heart on the bears, just in case."
The day after the story ran, Amy checked a post office box she'd borrowed from one of her sisters, hoping that maybe a few people might have been touched by the article. So many letters came pouring out that she had to find grocery bags to get them all home. Within a couple weeks, there were 3,000 requests and so much interest that Amy and her mother began giving knitting lessons at a local bookstore. It wasn't long before the accidental philanthropist filed for non-profit status and quit her full-time job.
"I wasn't looking for a new job or more meaning in my life," she explained. "I was reacting to a problem. I could see this was getting big fast and I just knew I had to let it happen."
Sororities and Girl Scout troops were signing on, and women in nursing homes, who had given up their knitting needles, were asking for them back. It wasn't long before Amy's living room turned into a colorful cave filled with bears of every hue -- some in pants, some with skirts, others with cable knit sweaters and hoods -- all knitted from the very same pattern, but with each knitter's personal touch.
Soon Amy began hearing from individuals throughout Sub-Saharan Africa, many who worked in communities hit hardest by HIV and AIDS, offering to be "bear distributors," and to deliver the bears with one mission and one mission only -- unconditional love. No proselytizing, not as a present for birthdays or holidays -- just to offer a gift of comfort.
And within a year, Amy was on the way to Africa herself.
"I met with a young African man who'd been delivering our bears and I asked him to take me everywhere. I didn't want him to sugar coat anything. I needed to see what this disease was doing. I saw kids who'd been orphaned, sleeping on the streets. I watched families driving in droves to cemeteries -- wailing as they dug graves for their loved ones."
"And then, we went to schools and orphanages," she remembered, "and I saw the kid's faces when they were handed bears. It was pure joy. These are children who had never had a toy. They'd get these soft bears and just cuddle right into them. I was told of a little boy who ran back into a house that was crumbling, to save his beloved bear. When he was asked why he risked his life, he said, 'Because my bear has a heart on it and that means someone loves me.' That's when it became real."
Since the Mother Bear Project began in 2003, thousands of volunteers, from as far away as Budapest, Brazil and Iran have knitted or crocheted a colorful bear. Some have created hundreds and an 86-year-old nun, named Sister Lauren, who lives in Mankato, Minnesota has made 1,965, with four more in the works.
And then there's Hazel, a 99-year-old woman who knits bears that bear a striking resemblance to celebrities like Elizabeth Taylor and Aretha Franklin -- there's even a Justin Bieber bear.
"When I began this project, I was trying to help the kids, but I hear all the time that our knitters aren't sure if it's doing more for the kids or themselves. It's giving so many women a purpose at a time in their lives when they didn't feel like they had anything left to give."
Today, ten years into this project, Amy is shipping out 1,000 bears a month. And when she's not knitting or sewing on hearts or writing thank you notes for every single bear she receives, she travels to knitting shows where she recruits more Mother Bears into her den. She's made five trips to Sub-Saharan Africa since the project began, and this fall, she plans to go to Lesotho and Botswana to personally deliver the group's 100,000th bear.
According to Avert.com, there are 14.8 million children in Sub-Saharan Africa who have lost a parent to the HIV and AIDS pandemic. And Amy's hope is to get a bear to each and every one of them -- along with children impacted by the disease in other emerging nations.
"Kids need to eat. They need an education. But they also need comfort," Amy said softly. "There's no place for that in the grant world. It's not part of anyone's plan. That's where the Mother Bear Project comes in. I want these children to know that someone half a world away is thinking about them. Whether these bears are a big thing or a small thing, it's something. If everyone could just do something, the world would be a much better place."
Add Marlo On Facebook:
Follow Marlo on Twitter:
Sign up to receive my email newsletter each week - It will keep you up-to-date on upcoming articles, Mondays with Marlo guests, videos, and more!