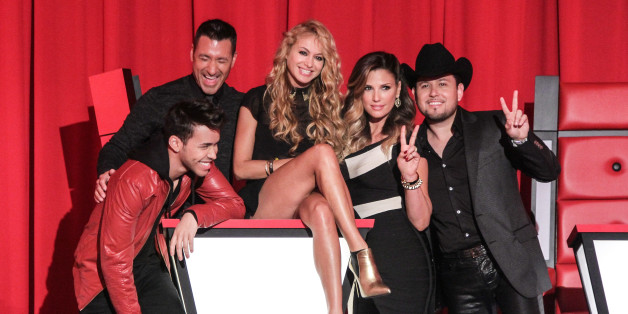 Paulina Rubio is going from the judge's chair to the courtroom.
The X-Factor judge sued the Spanish-language network Telemundo, a subsidiary of NBCUniversal, for allegedly backing out of a verbal agreement to pay the Mexican pop star $1.325 million dollars to be a coach on the second season of "La Voz Kids," according to Billboard.
Rubio was one of the coaches during the first season of the kids singing competition, a spin-off of "The Voice." The 42-year-old singer said in a lawsuit filed to the Los Angeles Superior Court that Telemundo used X-Factor scheduling concerns as a "pretext" to back out of the contract.
The lawsuit notes that Rubio's talent agent and attorney "agreed orally and in email correspondence" with Telemundo about renewing her contract for the second season of "La Voz Kids" under the same terms with an increase in compensation, the Associated Press reports.
The songstress is seeking at least $1million in compensation and $100,000 for a commercial shot for the first season of the talent competition.
"Telemundo apparently changed its mind after making a deal when presented with the opportunity to hire a far less expensive talent to replace Paulina," says the lawsuit, according to Billboard.
On Thursday, Vice President of Entertainment Publicity for Telemundo David Alvarado told HuffPost Voces that the network never made any sort of agreement with Rubio.
"The lawsuit filed by Paulina Rubio has no merit," Alvarado wrote in an e-mail to HuffPost Voces. "Telemundo doesn't have any agreement with her for the second season of 'La Voz Kids'."
BEFORE YOU GO
PHOTO GALLERY
Paulina Rubio Is Fierce