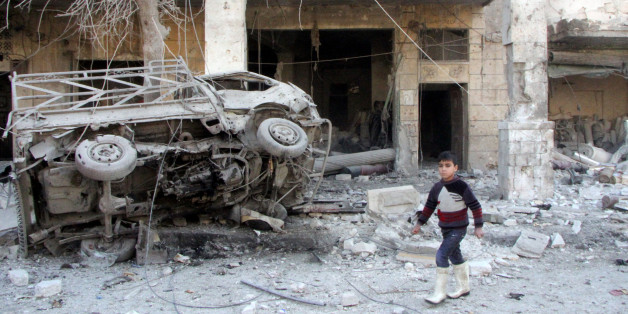 NEW YORK -- Three aid workers with the Czech humanitarian organization People In Need were killed by a mortar strike in the Syrian city of Aleppo last week, the organization has announced.
The aid workers, all of whom were Syrian, were helping manage a bread distribution point in a rebel-controlled part of Aleppo, a city that has been divided and brutalized by more than two years of steady warfare.
They were killed along with five children who were in line to receive bread, according to Petr Stefan, a media coordinator for People In Need. Two other staffers of the organization were wounded.
The decision by People In Need to go public with the news of employees' deaths marks a continuing trend among some aid organizations and others who work in Syria to forgo security concerns in favor of publicizing what they have come to see as an intractable situation.
Prior to the Jan. 7 events, People In Need, like most other international aid groups working in Syria, generally avoided discussing its operations out of concern that any information could put its staff at risk. But after the deaths in Aleppo, Stefan told The Huffington Post, family members of those killed urged the group to make details of the event public in order "to show what daily life in Aleppo is like."
"It's about advocacy, to put it simply," he said. "In a few days there will be the Geneva II peace talks, and we would like to influence the discussions there, because no one is speaking on this high level about what civilians are experiencing in this war."
Other groups and individuals who have run into trouble in Syria have been making a similar choice -- some for the purposes of advocacy, others because they found that staying quiet did little to improve their dire situation. In December, family members of two Spanish journalists who were kidnapped in northern Syria months earlier broke their silence after negotiations with the kidnappers made no progress.
"We have reached an impasse with the captors after many weeks of attempted mediation," Monica Prieto, the wife of kidnapped journalist Javier Espinosa, said at the time. "Today we appeal to the Syrian people and all armed groups to help release Javier and Ricardo [Garcia Vilanova], who have always been committed to show the human face and suffering of the Syrian people during these very difficult times."
But discretion remains a priority for others. Earlier this month, the Geneva-based medical aid group Doctors Without Borders acted quickly to confirm reports that five staffers had been abducted inside Syria, but declined to identify the individuals by name and asked media outlets to limit what they write about the incident. A spokesman for the group declined to comment.
People In Need has run bread distribution points in Aleppo since last January, Stefan said. The goal has been to increase the number of places where residents can obtain daily sustenance so that they do not congregate in large numbers at a single location.
"When we arrived, there were big lines of people standing in front of the bakeries, and sometimes it was more than a hundred people," he said. "They were very easy targets for the regime military."