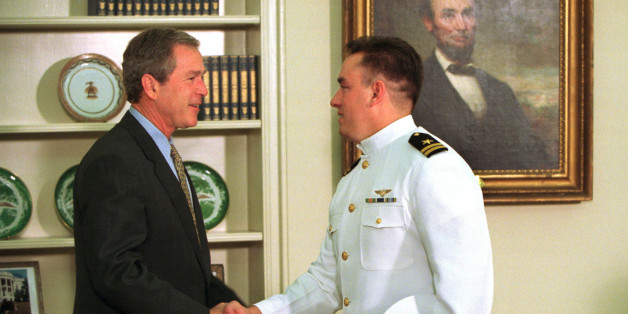 Former Nebraska state Treasurer Shane Osborn, who is running for the U.S. Senate, called the Consolidated Appropriations Act, which was passed Wednesday in the House, a "short bus to nowhere" in a tweet that his campaign subsequently deleted, realizing that it could be offensive.
A school bus shorter in length than a conventional school bus is commonly used to transport students with physical or mental handicaps.
In a statement sent from the campaign Friday, Osborn (R) responded to criticisms following his tweet. "My Mother is a nurse who takes care of special needs children and we consider them part of our family. I quickly realized the tweet sent the wrong message and deleted it immediately."
Agree, awful bill but mocking special needs kids?MT @osbornforsenate: Senate Omnibus is short bus to nowhere. http://t.co/OKqVaJox0F #NESEN

— Jordan Gehrke (@jmgehrke) January 17, 2014
A "conservative" Senate candidate should respect all children. MT @osbornforsenate: Senate passed Omnibus is a short bus to nowhere.

— Christopher Esget (@esgetology) January 17, 2014
The tweet, posted Thursday, was linked to a campaign release expressing Osborn's view that the appropriations bill would increase spending and do nothing to decrease the deficit.
The release also criticizes the bill for "callously" omitting military retirement benefits.
"Further, the budget cuts that do exist in this bill come at too high of a price for our men and women in uniform. It is offensive to me as a veteran of the U.S. Navy that members of Congress would seek to balance the budget by singling out military pensions," Osborn said in the release.
On his campaign's website, Osborn, who reached the rank of lieutenant commander as a naval pilot, touts his background working with disabled military veterans.
"He partnered with several disabled veterans to create, not just jobs, but career opportunities for returning post-9/11 veterans. Begun with a staff of four, today that business employs more than 40 people. He also helped to create the Nebraska Soldiers Foundation, which has established several clinics across Nebraska to help veterans and their families cope with the effects of Post-Traumatic Stress Disorder."
Osborn was endorsed in November by FreedomWorks, a conservative nonprofit, in the Republican primary to replace retiring Sen. Mike Johanns (R).
BEFORE YOU GO
PHOTO GALLERY
113th Congress Facts