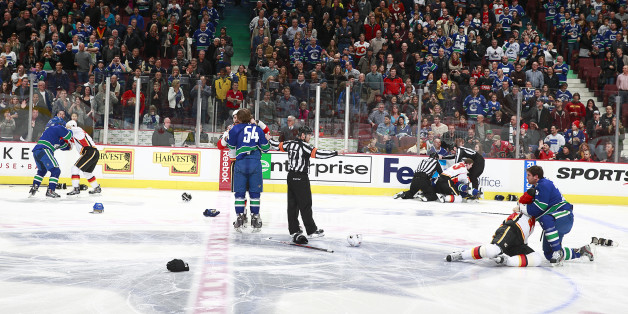 Hostilities between the Vancouver Canucks and the Calgary Flames escalated quickly, very quickly.
A massive line brawl broke out between the two teams just two seconds after the puck dropped in the first period of their game on Saturday night in Vancouver. Calgary's Kevin Westgarth went after Vancouver's Kevin Bieksa on the opening faceoff and within seconds all 10 skaters on ice to start the game had dropped gloves. The melee resulted 10 fighting majors, eight game misconducts and 152 penalty minutes, according to NHL.com
Looks like people were ice fishing, patches of blood all over the ice. #Canucks

— Vancouver Canucks (@VanCanucks) January 19, 2014
"I don't think anybody expected that," Flames defenseman Chris Butler, one of the eight players ejected, said after the game, via The Associated Press. "It's been a while since something like that happened, five guys pairing off."
Here is a glance at the summary of the penalties resulting from the opening brawl, via the Flames' website.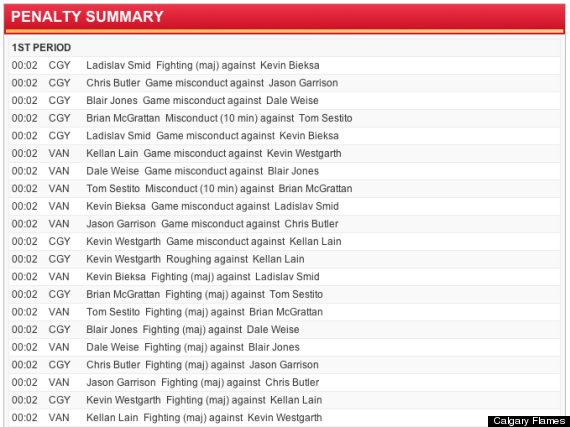 Canucks coach John Tortorella didn't calm down even after play resumed, chasing his coaching counterparts toward the Flames' dressing room after the first period ended.
Eventually tensions cooled somewhat and the game was completed. The Canucks prevailed in the fifth round of the shootout with Chris Higgins scoring the winning goal. After the game, Tortorella blamed Flames coach Bob Hartley's decision to start his fourth line for igniting the fight.
"I see the starting lineup and I know the guy across the bench," said Tortorella, via Matt Lee of CKNW. "It's easy for people to say 'Oh put the Sedins out there and it's deflated', but I can't put our players at risk that way with the lineup he had. I am not going to put those types of players at risk. I'm not proud of it, I've apologized to every one of the players involved in it."
BEFORE YOU GO