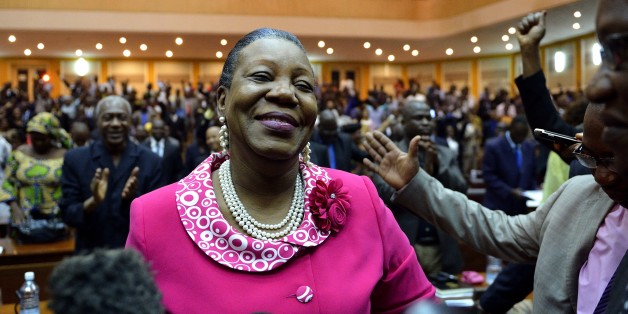 By Paul-Marin Ngoupana
BANGUI, Jan 20 (Reuters) - Central African Republic's transitional parliament elected the mayor of Bangui, Catherine Samba-Panza, as interim president on Monday, tasked with ending months of sectarian killings and guiding the country to elections.
Samba-Panza, who defeated seven other candidates, succeeds Michel Djotodia, the leader of the Seleka rebels who seized power in March. Djotodia stepped down on Jan. 10 under intense international pressure after failing to halt inter-religious violence which has displaced more than 1 million people.
Samba-Panza was elected in a second-round runoff by 75 votes to 53 for her rival Desire Kolingba, the son of former president Andre Kolingba.
The landlocked former French colony descended in chaos in March after Seleka unleashed a wave of killing and looting, triggering revenge attacks by Christian militia known as 'anti-balaka'.
Many now hope that the election of a new interim president with no links to either camp will help to bring calm to the nation of 4.6 million people.
A spokesman for a major group of anti-balaka fighters, which had earlier threatened protests against the vote, said they were happy with Samba-Panza's election. He welcomed the fact that a woman had been elected to the presidency for the first time.
French deployed 1,600 troops in December under a U.N. mandate to support an African Union peacekeeping mission, but has failed to halt the violence. U.N. officials say that more than 2,000 people have been killed in clashes since March.
European Union foreign ministers agreed on Monday to send up to 1,000 soldiers to help stabilise the country, a diplomatic source said, the bloc's first major army operation in six years. (Additional reporting by Emmanuel Braun in Bangui and Adrian Croft in Brussels; Writing by Daniel Flynn; Editing by Emma Farge)
BEFORE YOU GO
PHOTO GALLERY
Fighting Rocks Central African Republic