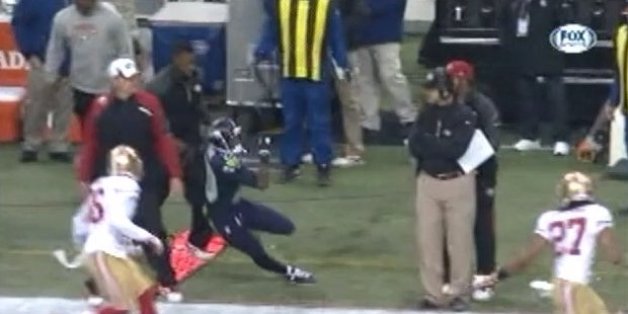 The NFL has another sideline incident on its hands.
While covering a punt in the second quarter of the NFC Championship Game, Seahawks cornerback Jeremy Lane was pushed out of bounds on San Francisco's sideline. As Lane continued running along the sideline, someone dressed in a 49ers warmup suit collided with him and knocked him off his feet.
It's unclear who was in Lane's path. The refs didn't throw a flag for the collision on the sideline.
(Video via ZombieProphet)
ESPN's Adam Schefter reported on Monday morning that the NFL will review the play and decide if any discipline should be handed down.
It was just last month when the NFL fined Steelers head coach Mike Tomlin $100,000 for interfering with a kick return from the sideline against the Baltimore Ravens. The league fined the New York Jets the same amount in 2010 when their strength and conditioning coach Sal Alosi was caught on tape tripping a Dolphins player during a punt return.
BEFORE YOU GO
PHOTO GALLERY
PHOTOS: 49ers vs. Seahawks