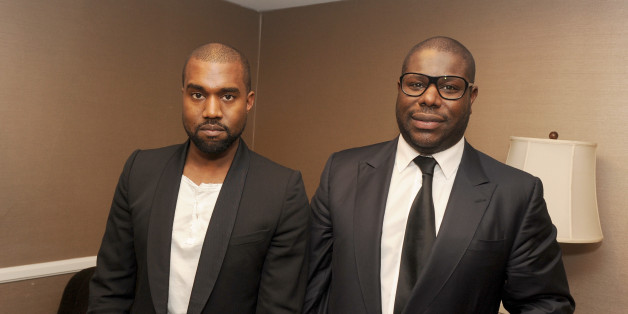 Monday's must-read interview for anyone interested in art, music, movies and just about everything else is this chat between Kanye West and Steve McQueen for Interview Magazine.
The "12 Years A Slave" director and West go way back -- West introduced McQueen at the Hollywood Film Awards on Oct. 21, 2013, the night he proposed to Kim Kardashian -- and their discussion is so forthright that it made us wish McQueen had some kind of Kanye West documentary in the works. In lieu of that, however, here's what West had to say about making "Yeezus" different from his previous album, "My Beautiful Dark Twisted Fantasy":
I had to not follow any of the rules because there was no way to match up to the previous album. [...] That's one of the reasons why I didn't want to use the same formula of starting the album with a track like "Blood on the Leaves," and having that Nina Simone sample up front that would bring everyone in, using postmodern creativity where you kind of lean on something that people are familiar with and comfortable with to get their attention. I actually think the most uncomfortable sound on "Yeezus" is the sound that the album starts with, which is the new version of what would have been called radio static. It's the sonic version of what internet static would be -- that's how I would describe that opening. It's Daft Punk sound. It was just like that moment of being in a restaurant and ripping the tablecloth out from under all the glasses. That's what "On Sight" does sonically.
There's so much more where that came from at Interview. Listen to "On Sight" below, and imagine West "ripping the tablecloth out from under all the glasses" like some Las Vegas magician.
[via Interview]