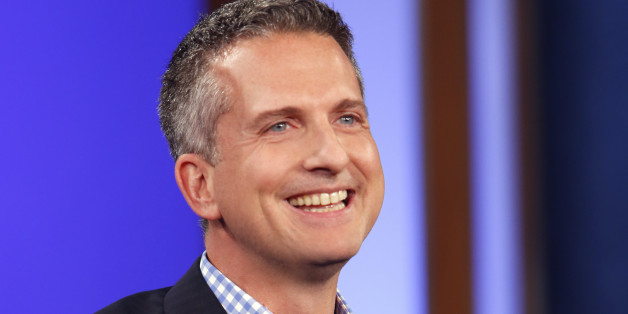 After days of conspicuous silence, Bill Simmons addressed the controversy swirling around "Dr. V's Magical Putter." Simmons, the editor-in-chief of ESPN's Grantland, apologized on Monday for the article written by contributor Caleb Hannan that posthumously outed a transgender woman and has been widely criticized for its transphobia and lack of empathy. The story began as an investigation into a piece of "scientifically superior" golf equipment but became an investigation into the background of the club's inventor, Essay Anne Vanderbilt. As Hannan uncovered that Vanderbilt had falsified her professional credentials he also learned that she was a transgender woman. She would commit suicide before the piece was published.
"Hannan distances himself from this tragedy by including in the story the report of a previous attempt at taking her own life made by Dr. V, as if to suggest that her suicide was inevitable," wrote Melissa McEwan of Shakesville on Friday. "Further, he catalogs her deception about her educational and professional background alongside the revelation that she is trans, in a way that suggests her failure to reflexively disclose that she is trans as part of any introduction to a new person is a lie, just like so many others she told."
With McEwan's post just one of several poignant, critical responses to Hannan's essay, Simmons published "A Letter From the Editor" at Grantland on Monday that included both his apology as well as an explanation of how Hannan's story came to be published.
Before we officially decided to post Caleb's piece, we tried to stick as many trained eyeballs on it as possible. Somewhere between 13 and 15 people read the piece in all, including every senior editor but one, our two lead copy desk editors, our publisher and even ESPN.com's editor-in-chief. All of them were blown away by the piece. Everyone thought we should run it. Ultimately, it was my call. So if you want to rip anyone involved in this process, please, direct your anger and your invective at me. Don't blame Caleb or anyone that works for me. It's my site and anything this significant is my call. Blame me. I didn't ask the biggest and most important question before we ran it — that's my fault and only my fault.
In revisiting the editorial process for this piece, Simmons determined that not seeking the input of anyone in the trans community was Grantland's most egregious error.
We made one massive mistake. I have thought about it for nearly three solid days, and I've run out of ways to kick myself about it. How did it never occur to any of us? How? How could we ALL blow it?

That mistake: Someone familiar with the transgender community should have read Caleb's final draft. This never occurred to us. Nobody ever brought it up.
As Simmons' letter largely focused on the specific set of circumstances that allowed the offending article to be published in its final form, Tim Marchman of Deadspin described it as a "characteristically self-obsessed, if searching, apology" while Cyd Zeigler of Outsports felt that it was as much a defense as an apology.
Interesting to read the half-defense, half-mea culpa by @BillSimmons on the Dr. V story. At least he's half listening http://t.co/zNrqRS84aM

— Cyd Zeigler (@CydZeigler) January 20, 2014
Christina Kahrl, one Simmons' ESPN colleagues, authored a separate piece published at Grantland on Monday that connected the problems with Hannan's story to the larger issues facing the transgender community. In "What Grantland Got Wrong: Understanding the serious errors in "Dr. V's Magical Putter", Kahrl catalogued the mistakes made by Hannan and the Grantland editorial team.

It was not Grantland's job to out Essay Anne Vanderbilt, but it was done, carelessly. Not simply with the story's posthumous publication; that kind of casual cruelty is weekly fare visited upon transgender murder victims in newspapers across the country. No, what Hannan apparently did was worse: Upon making the unavoidable discovery that Vanderbilt's background didn't stand up to scrutiny, he didn't reassure her that her gender identity wasn't germane to the broader problems he'd uncovered with her story. Rather, he provided this tidbit to one of the investors in her company in a gratuitous "gotcha" moment that reflects how little thought he'd given the matter. Maybe it was relevant for him to inform the investor that she wasn't a physicist and probably didn't work on the stealth bomber and probably also wasn't a Vanderbilt cut from the same cloth as the original Commodore. But revealing her gender identity was ultimately as dangerous as it was thoughtless.
One of the founders of Baseball Prospectus, Kahrl is a member of GLAAD's board of directors. She is also on the Advisory Board of You Can Play, an organization dedicated to ensuring equality, respect and safety for all athletes, without regard to sexual orientation.
@robgreeneII @BillSimmons Bill & I spent lot of time talking about this over the weekend. He's owning it, goal is 2 do it right forever more

— Christina Kahrl (@ChristinaKahrl) January 20, 2014
BEFORE YOU GO