Keegan Keppner is battling terminal cancer, but whatever precious time he has left, he's using to make the world a little bit better.
The 10-year-old Oregon boy was diagnosed in 2005 with a form of glioma, a cancerous tumor that affects the brain and spine. He also has a condition that causes excessive fluid accumulation in his brain, KVAL reported. In addition to his medical issues, his parents are struggling with unemployment, according to ABC News.
But Keegan isn't interested in focusing on his own woes. Instead, he wants to help the homeless in his area who have nowhere else to turn.
When the generous kid learned that a group of homeless people would soon be evicted from a campsite in Eugene, Ore., he decided to check an item off of his bucket list, according to his stepfather. Keegan and his stepfather helped them by serving breakfast, and he hopes to keep feeding them meals, KVAL reported.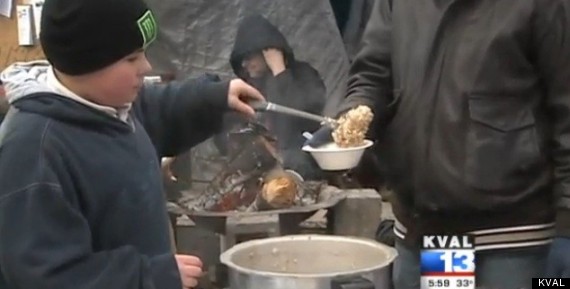 "It's sad to see them suffer," the fourth-grader told ABC News. "There are a lot of nice people down there."
Keegan's inspiring perspective is something we've seen from a number of kids facing dire situations.
Before 11-year-old Trevor Sims died in October from rhabdomyosarcoma, a rare cancer that develops in the soft tissue, he fulfilled his wish of helping the hungry, WBRZ reported.
The Baton Rouge, La., kid was particularly motivated to help people who needed food because he had witnessed firsthand his own mother struggle to feed his family.
"One time, when I was diagnosed, my mom didn't have any money to get food and we were starving for two or three days in a row. She couldn't get a job because she had to take care of me," Trevor told ABC. "I don't want nobody else to feel that way."
Altogether, Trevor's food drive helped collect more than 34,000 pounds of nonperishable items and $64,000 in monetary donations for the Greater Baton Rouge Food Bank.
BEFORE YOU GO
PHOTO GALLERY
10 Most Food Insecure States For Children Per Capita