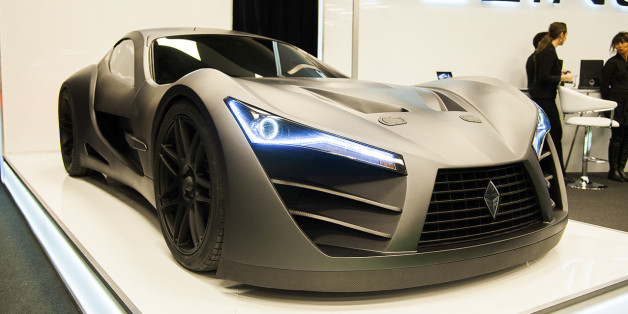 Canada can now proudly announce it will be the home of one supercar company.
The brainchild of Canadian race car driver Antoine Bessette, Felino will be headquartered in Quebec and will produce a supercar called the cB7. The company revealed a second-generation prototype of the vehicle at the Montreal Auto Show last week.
The cB7 is a supercar with styling that's, let's say, unique. Autoblog Canada graciously writes that it "looks like an evil step-child of the Batmobile." Regardless of where the car's design falls on your personal beauty spectrum, however, we can all agree the thing looks mean.
And, in theory, it should be one mean supercar. Though Felino is quick to note the car's final specifications may change by its reported sale date in summer 2014, the preliminary specs are impressive: 525 horsepower from a V8 engine, a standard six-speed manual gearbox with an available sequential transmission, and a curb weight that's a shade more than 2,500 pounds, according to press material from the company. (For reference the 455-horsepower Corvette Stingray Coupe weighs nearly 3,300 pounds and does 0-60 mph in 4.1 seconds, according to Edmunds.com.)
The Huffington Post reached out to Felino for additional details but did not receive an immediate response. Final pricing for the Felino cB7 has yet to be announced, but the company did say the car's base price will be less than $100,000.