 Two new national polls show Chris Christie's standing in decline nationwide, though with little change with the Republican base. Obama's NSA speech had little effect on public opinion. And researchers claim they can use Facebook likes to accurately forecast elections. This is HuffPollster for Tuesday, January 21, 2014.
TWO NEW POLLS SHOW CHRISTIE DOWN NATIONWIDE - Quinnipiac University: "Several measures of New Jersey Gov. Christopher Christie's 2016 presidential prospects are down, as he trails former Secretary of State Hillary Clinton 46 - 38 percent, according to a Quinnipiac University national poll released today.This compares to the results of a December 11 survey by the independent Quinnipiac University showing Gov. Christie at 42 percent and Secretary Clinton at 41 percent. The December results were almost identical to those of a November 13 survey. The biggest shift since December is among independent voters who go from 47 - 32 percent for Christie last month to 41 percent for Clinton and 40 percent for Christie today. American voters are divided 35 - 36 percent on whether Christie would make a good president, down from 49 - 31 percent November 13. Clinton would make a good president, voters say 52 - 40 percent, compared to 54 - 40 percent in November." [Quinnipiac]
Rise in Christie's unfavorable rating - Pew Research Center: "Chris Christie's public image today is starkly different than it was a year ago. Last January, following Christie's visible role in Hurricane Sandy relief efforts, favorable opinions outnumbered unfavorable ones by more than two-to-one. Today, in the wake of a scandal involving highway lane closures that led to massive traffic jams in northern New Jersey, nearly as many offer an unfavorable assessment of Christie as a favorable one...38% have a favorable impression of Christie while 34% have an unfavorable view; 28% offer no opinion of the New Jersey governor. Unfavorable views of Christie have doubled since last January – from 17% to 34% – as more people now offer an opinion of Christie. Favorable views of Christie are largely unchanged from last January (38% now, 40% then)." [Pew Research]
But little change with Republican base - More from Pew Research: "Republicans still view Christie favorably by 49% to 27%. That is only modestly changed from last January, when an identical percentage (49%) viewed Christie favorably and 20% had a negative opinion...unfavorable opinions of Christie among Republicans and GOP leaners who agree with the Tea Party rose 13 points between January and July, from 22% to 35%. Since [July], however, there has been virtually no change in opinions about Christie. Currently, 51% of Tea Party Republicans have a favorable impression of Christie while 36% view him unfavorably. Opinions of Christie among non-Tea Party Republicans show little change from either July or January. Currently, 47% of non-Tea Party Republicans view Christie favorably while 25% view him unfavorably." [ibid]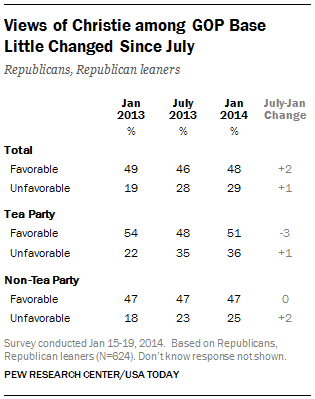 Quinnipiac polls show similar trend - Among Republicans nationwide, Christie's personal rating on the Quinnipiac poll was roughly the same on the latest poll (45 percent favorable, 15 percent unfavorable) as on a previous Quinnipiac poll conducted in October (43 percent favorable, 21 percent unfavorable). The Governor's favorable rating was higher among Republicans (55 percent) in Quinnipiac surveys conducted in December (in which results were based on a less reliable half sample) and in July. [Quinnipiac]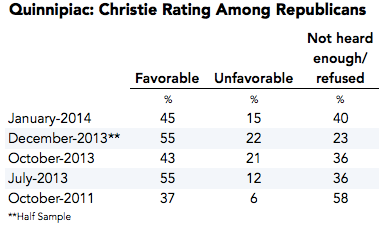 OBAMA'S NSA SPEECH HAS LITTLE EFFECT - Sabrina Siddiqui: "President Barack Obama's widely publicized speech on Friday announcing reforms to the National Security Agency failed to reassure Americans about the government's surveillance apparatus, according to a Pew Research Center/USA Today poll released Monday.Perhaps most troubling for the administration, half of the survey's respondents said they heard nothing about the president's proposed changes to the NSA's surveillance activities, while 41 percent said they heard just a little bit about the reforms. Among those who heard a lot or even a little about the speech, an overwhelming 73 percent said they thought Obama's NSA changes would make no difference to the status quo." [HuffPost]
CAN FACEBOOK PREDICT WHO WINS THE SENATE IN 2014? - Three UMass, Amherst researchers say yes: "In 2012, our Facebook Forecasting Model accurately predicted the winner in eight of the nine Senate toss-up races studied. Back-testing our forecasting model in Senate races over the last nine weeks of the 2012 election and comparing our results against 212 published polls, we found that the model, which incorporates readily available fan and engagement numbers with past electoral history tabulated by the Cook Report, did a better job of projecting actual election returns than polling in four of the weeks studied, and just as well in another week. A follow-up test run in the 2013 special New Jersey Senate race, using Facebook data the week before the election, forecasted a 55.04 percent to 44.96 percent Booker victory—very close to the actual Election Day results...So why does our model work? The main reason is scale: Social media, and especially Facebook, is now ubiquitous. It's "virtual" in the sense that it's online, but the interactions between candidates and voters are no less real. There are more than 128 million daily active Facebook users in the United States, and they spend an average of 114 billion minutes a month browsing the site." [Politico]
Blurring the lines between forecast and snapshot measurement? Democratic pollster Nick Gourevitch: "A Facebook-based model predicted 20 of 33 competitive House races correctly. Call me crazy for not being impressed?...[But] not sure what it means for the Facebook model to beat polling in 4 of last 9 weeks. A poll measures a race at a point in time." [@nickgourevitch here and here]
DID 'BIG DATA' REALLY WIN 2012? - John Sides and Lynn Vavreck: "The innovations of moneyball in politics and the way the Obama campaign deployed data are real and important. But those innovations have not gone as far as the hype says they did. Can political campaigns use data to predict exactly how we'll vote? Can they subtly manipulate our votes? Did data crunching really put Obama back in the White House? The answer to all those questions is 'not really.' A CNN story from late 2012 declared, "Campaigns know you better than you know yourself." Hardly. We still know ourselves quite a bit better than campaigns do. And what was innovative in the Obama campaign was not necessarily decisive. Moneyball did not win the election. Even Obama's data crunchers will freely tell you that. But moneyball is how campaigns will increasingly be waged in the future. Basing campaign decisions on data is certainly a lot better than basing them on gut instinct or hunches, even if those hunches are occasionally right. While the techniques are being honed and tested, though, it's worth learning more about what moneyball in campaigns can and can't do to affect how we vote. It's worth learning, in other words, just how powerful a campaign tool moneyball is or is not." [Pacific Standard]
WORRIES ABOUT POVERTY ARE BIPARTISAN - Margie Omero (D): "A majority (54%) of Americans say they have a close family member who is poor, more than even during the 2008 peak of the economic crisis. And the average estimate of the number of Americans in poverty (39%) is far more than the reality (15%) and is a 10-point jump since 2008 (when the reality was 13%). Given both experiences and perceptions of widespread poverty, majorities across party lines are dissatisfied with the distribution of wealth. According to Gallup, two-thirds of adults (including 54% of Republicans) are dissatisfied "with the way wealth and income are distributed." Pew has shown more feel the income gap has widened over the last decade. Taken all together, this leaves Americans more pessimistic about what was once a top American source of pride: the potential for upward mobility. Gallup also shows continued increase in dissatisfaction with the opportunity for people "to get ahead by working hard." And here there is no party difference at all: 61% of Republicans and 60% of Democrats are dissatisfied." [HuffPost]
HUFFPOLLSTER VIA EMAIL! - You can receive this daily update every weekday via email! Just enter your email address in the box on the upper right corner of this page, and click "sign up." That's all there is to it (and you can unsubscribe anytime).
TUESDAY'S 'OUTLIERS' - Links to the best of news at the intersection of polling, politics and political data that we missed during our holiday break (starting with a few new items from today:
-President Obama's average approval rating during 2013 was slightly lower than in 2012 but slightly higher than in 2011. [Gallup]
-Consumer confidence ticks down in early 2014. [Gallup]
-An NPR poll demonstrates that "Latino Americans" aren't a monolith. [NPR]
-Mark Warner (D) leads Ed Gillespie (R) by nearly 30 points in the 2014 Virginia U.S. Senate race. [Roanoke]
-New York Gov. Andrew Cuomo (D) looks strong for reelection. [Siena]
-Massachusetts Gov. Deval Patrick (D) enters his final year in office with positive approval ratings. [WBUR]
-Obama's sagging approval ratings boost GOP hopes of retaking the Senate in 2014. [WSJ]
-Dan Balz thinks Democrats have an uphill path to 270 electoral votes in 2016. [WaPost]
-John Sides says the political and economic fundamentals bode poorly for the Democrats presidential chances in 2016. [WaPost's Monkey Cage]
-Ed Kilgore questions whether the third term is really a "curse." [TPM]
-Larry Sabato thinks Hillary Clinton is "no slam dunk in 2016." [Politico]
-Morris Fiorina and Samuel Abrams argue that Americans aren't polarized, "just better sorted." [WaPost's Monkey Cage]
-It's going to be a long election cycle. [Twitter]