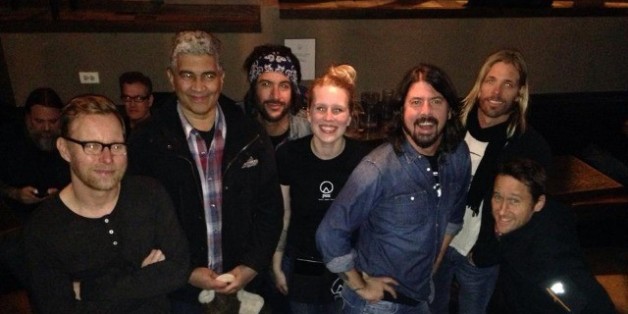 Foo Fighters frontman Dave Grohl seems to have a hot piece in Chicago that keeps him coming back to the Windy City for more.
Piece -- of pizza, that is.
Grohl (sporting an excellent Canadian tuxedo) was spotted Monday evening with his fellow Foo Fighters bandmates while dining at Piece Pizzeria & Brewery in Wicker Park.
Grohl and friends were last spotted at Piece in June along with legendary music engineer (and Chiagoan) Steve Albini and Cheap Trick's Rick Nielsen.
A Piece employee told HuffPost Grohl is good friends with both Piece owner/operator Bill Jacobs and Nielsen, who is an investor in the restaurant.
In addition to some Windy City 'za, Eater Chicago reports Grohl also checked out Kuma's Corner.
At one point during the evening, Grohl decided even the purportedly poop-filled trains of the CTA wouldn't keep him from enjoying an 'L' ride.
A Twitter user's friend spotted Grohl -- looking more cheerful than anyone has a right to while riding public transit -- aboard the Brown Line Monday evening:
Friend of mine's brother sent him this via text a few minutes ago. Grohl's in Chicago, on the Brown Line. pic.twitter.com/CHhCKj4zSU

— Jim Hanke (@jimhanke) January 21, 2014
Eater floated the idea that the band may have been in town recording, based on an earlier tweet that the band's upcoming LP8 album would be recorded in studios in 12 different cities, including Chicago.
As Chicagoist said, maybe it's time to consider moving to the Windy City permanently. Regardless, thanks for visiting yet again, Dave!
BEFORE YOU GO
PHOTO GALLERY
Nirvana Songs