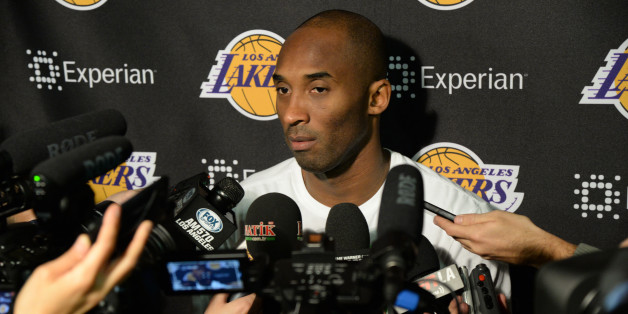 CHICAGO -- For once, Kobe Bryant emerged from the trainer's room into an interview session delving into little about his recovery.
After all, Bryant had spoken four days ago in Boston about how he's rehabbing his fractured left leg performing bike drills and won't receive an MRI until early February. So instead, Bryant dished on a wide-range of topics ranging from his refusal to play in the 2016 Olympics, why he doesn't feel deserving for an All-Star nod and his wish for the NBA to return to the rugged style it employed in the 1980's.
But first things first. Bryant said his return remains "up in the air," but is he just as uncertain about how he'll play?
"Zero," Bryant said. "There was before I came back the first time because I didn't know how my Achilles would respond to changing direction. The game in Memphis, I had a pretty good feel and felt like I was getting back to what I normally do. I feel pretty confident."
Bryant also voiced optimism for Bulls guard Derrick Rose, who remains sidelined with a right meniscus injury after spending all of last season rehabbing a torn ACL.
"It's unfortunate," Bryant said. "You have two options. One is to lay down and not do anything about it. The second is to get up and get to work. The second one is more appealing."
Bulls coach Tom Thibodeau, who will serve as an assistant for Team USA in the 2016 Olympics in Rio de Janiero, hoped he could convince Bryant to compete for his third consecutive gold medal. Bryant immediately vowed he won't return after winning gold in the 2012 London games. Despite signing a two-year extension worth $48.5 million that will keep him under contract through the 2015-16 season, Bryant held firm.
"I'll go and spectate," Bryant said. "I'd rather watch Pau (Gasol) win another silver" with the Spanish national team.
Bryant also didn't sound thrilled about playing in the 2014 NBA All-Star game Feb. 16 in New Orleans even if he heals in time. After averaging 13.8 points on 42.5 percent shooting, 6.3 assists and 5.7 turnovers through six games, Bryant suggested he doesn't deserve his 16th All-Star appearance. The final returns on the NBA All-Star ballot ended Monday night, and will likely feature Bryant as a starter.
"I've always looked forward toward playing in All-Star games and that's something that's a huge honor," Bryant said. "I haven't played (much) this year. Some of the younger guys that have been performing, doing extremely well and are All Star worthy should be the ones out there playing."
Bryant also voiced his dislike on how the NBA has become more of a "finesse" game and employs "small ball," a philosophy Bryant conceded Lakers coach Mike D'Antoni largely speaheaded.
"I like smash mouth old school basketball," Bryant said. "That's what I grew up watching. It's much less physical. Some of the flagrant fouls I see called nowadays makes me nauseous. You can't touch a guy without it being a flagrant foul."
Can the game revert back to the past?
"I don't know," Bryant said. "Kids might be too sensitive for that nowadays."
Bryant also advocated abolishing the "one-and-done" rule that requires players to attend at least one year of college before going to the NBA. Bryant, Kevin Garnett and LeBron James jumped from high school to the NBA before the rule was implemented in 2005.
"It seems like the system doesn't really teach the players anything when you go to college," Bryant said. "I'm always a firm believer of us being able to make our decisions, especially as it pertains to going out, working and having a job."
That's why Bryant said he will stay involved with basketball "in some capacity" whenever he retires, though he didn't sound interested in working in sports media.
Injury update
Lakers forward Xavier Henry will have the bone bruise in his right knee reevalauted on Wednesday. D'Antoni ruled him out, however, for the Lakers' game Thursday in Miami, believing he will need to practice before returning.
Forward Jordan Farmar said he will receive an ultrasound on his torn left hamstring when the team returns to Los Angeles on Jan. 28. After staying sidelined for the past three weeks, Farmar described his recovery as "slow motion." He's remained confined toward shooting drills, but hasn't received clearance to run. ___