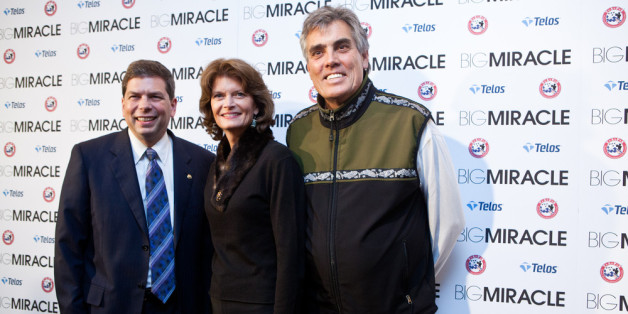 Sen. Lisa Murkowski (R-Alaska) is staying out of the Republican Senate primary in the state, but she told reporters in Anchorage Monday she plans to back the candidate that wins the bid to oust Sen. Mark Begich (D-Alaska), according to the Anchorage Daily News.
Three Republicans are seeking their party's nomination to challenge Begich: tea party-backed Joe Miller, who also ran for the Senate in 2010; Alaska Lt. Gov. Mead Treadwell; and former Natural Resources Commissioner Dan Sullivan.
But when given the opportunity, Murkowski didn't criticize Begich directly.
"As an Alaska delegation, we've got to be working on those issues that are important to our constituents," Murkowski said, according to the Anchorage Daily News. "Sen. Begich has been keying in on the issues that I think Alaskans are worried about and doing what he was tasked to do."
Begich is a top target of Republicans in their efforts to wrest control of the U.S. Senate from Democrats. If Republicans are successful, Murkowski would become chair of the Senate Committee on Energy and Natural Resources, where she's now the top-ranked Republican.
Alaska's only congressman, U.S. Rep. Don Young, told The Hill last week that Begich was doing "a good job" in the Senate.
Murkowski initially told reporters her support would depend on the Republican nominee in the November general election.
"If Joe Miller wins, I'm not probably going to be working too hard," Murkowski said. Miller beat Murkowski in the 2010 Senate primary, only to lose to Murkowski after she mounted a write-in campaign.
She then clarified that she backs the Republican drive to take over the Senate: "I'm going to be working to get Republicans elected," she said.
In an in-depth report on Begich's reelection battle published earlier this month, The Huffington Post's Eliot Nelson described the challenges the Democratic senator has ahead.
"Alaska's often contradictory politics -- solidly Republican yet strongly receptive to government money -- will require [Begich] to cast himself as both politically independent and connected enough to his party apparatus to secure federal funds for the state," Nelson wrote.
BEFORE YOU GO
PHOTO GALLERY
Senate Seats Up For Grabs In 2014