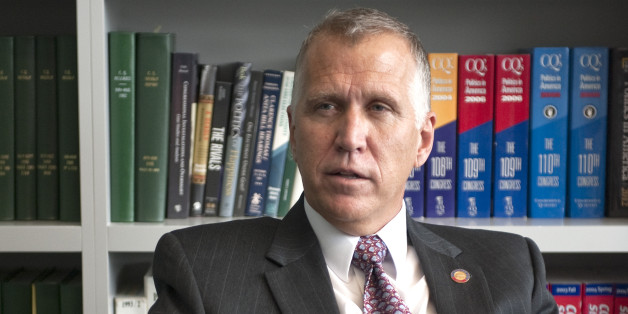 Thom Tillis, speaker of the North Carolina General Assembly, just got a sixth challenger in the Republican race to unseat U.S. Sen. Kay Hagan (D) this year. Dr. Edward Kryn of Clayton, N.C., announced his candidacy Tuesday, taking a veiled shot at what he suggested were Tillis' special-interest ties.
Kryn's candidacy demonstrates that Republicans continue to be dissatisfied with their primary field. Former Shelby, N.C., Mayor Ted Alexander joined the GOP race last week.
It appears increasingly unlikely any of the Republican candidates will win the requisite 40 percent of primary votes on May 6 in order to avoid a runoff in July. Hagan, a top target of the national GOP, can focus her campaign on the November election while the Republican primary contenders slug it out with each other.
Kryn, a retired physician, explains on his campaign website that he was born in Canada and practiced medicine there before emigrating to the U.S. 17 years ago.
"I left medicine in Canada as I saw my own profession embark on a secular path that turned its back on the Hippocratic Oath as it came to embrace abortion and the homosexual agenda," Kryn says in the website's biographical section. "As the only GOP candidate in the 2014 primary who has worked in socialized medicine, I feel that I bring a unique ability to address the deficiencies of health care without saddling ourselves with Obamacare."
Tillis has the backing of the Republican Party establishment. Tea party favorite Greg Brannon (R) has Sen. Rand Paul's (R-Ky.) support, while Baptist minister Mark Harris (R) has received the endorsement of former Republican presidential candidate and Arkansas Gov. Mike Huckabee. Heather Grant (R), a nurse, and Bill Flynn (R), a radio host, also are running.
BEFORE YOU GO
PHOTO GALLERY
Senate Seats Up For Grabs In 2014