By Vanessa Quirk
(Read original article here)
Library of Birmingham / Mecanoo. Image © Christian Richters
Architects' Journal has just released the shortlist for their Women in Architecture Awards, which aim to raise the profile of women architects in a sector where women still face an alarming degree of discrimination.
Christine Murray, Editor of Architects' Journal, commented: "I'm delighted to announce this year's shortlist, which includes the women behind the celebrated Library of Birmingham, the new Stonehenge development and the Giant's Causeway visitor centre. The awards celebrate design excellence and leadership -- qualities needed to succeed as an architect -- and especially among women, who are under-represented in the construction industry."
2014 Woman Architect of the Year Shortlist:
1. Yvonne Farrell, Grafton Architects 
2. Shelley McNamara, Grafton Architects
Co-founders of the successful women-led Irish practice, who were shortlisted for the 2013 Stirling Prize with their University of Limerick campus, and are currently exhibiting in the Sensing Spaces show at the Royal Academy.
University of Limerick Medical School / Grafton Architects. Image © Dennis Gilbert
3. Roisin Heneghan, Heneghan Peng 
Co-founder of the practice behind the Giant's Causeway visitor centre (shortlisted for the 2013 Stirling Prize), Heneghan is currently overseeing the Grand Egyptian Museum in Giza and the Palestinian Museum in Birzeit.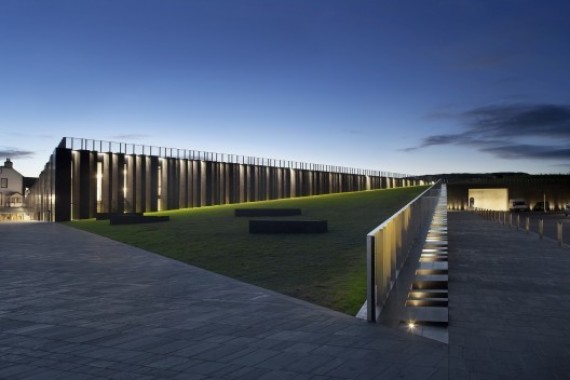 Giants Causeway Visitor Centre / Heneghan & Peng Architects. Image © Hufton + Crow
4. Francine Houben, Mecanoo 
The woman behind the £188.8 million Library of Birmingham, Houben founded Mecanoo in 1984.
5. Maria Langarita, Langarita-Navarro Arquitectos 
Langarita-Navarro Arquitectos are the architects behind the Red Bull Music Academy headquarters as well as the Medialab-Prado for Madrid City Council. Maria co-founded this Madrid-based practice in 2005.
Red Bull Music Academy / Langarita-Navarro Arquitectos. Image © Miguel de Guzman
6. Kirsten Lees, partner, Grimshaw 
Lees is behind much of Grimshaw's work in the sports sector, developing a Wimbledon master plan. Work also includes a new contemporary art gallery in Istanbul.
7. Sadie Morgan, dRMM 
Only the fourth woman to be elected president of the prestigious Architectural Association's architecture school, Morgan is co-founder of the successful practice dRMM, most famous for their Stirling-Prize shortlisted 2010 Clapham Manor Primary School. She is currently at work on residential projects for both the Elephant and Castle, and Battersea Power Station redevelopment.
Clapham Manor Primary School / dRMM. Image © Jonas Lencer
8. Adriana Natcheva, Groves Natcheva Architects 
Adriana co-founded her practice in 2000, and projects include a head office in Brazil, and 15 residential developments across London.
2014 Emerging Woman Architect of the Year Shortlist:
1. Hannah Corlett, Assemblage 
Co-founder of a young practice (founded in 2003) which won the competition for the new $1 billion Iraqi parliament building, Corlett also won the campus for the University of Qatar engineering department and a competition for 15ha settlement in Iraq.
2. Angela Dapper, Denton Corker Marshall 
The woman behind the Stonehenge Visitor Centre, Dapper has led its design since it began in January 2009. Current projects also include the Mandarin Oriental Hotel in Hyde Park.
Stonehenge Visitor Centre / Denton Corker Marshall. Image © Peter Cook
3. Daisy Froud, AOC 
A vocal and active woman in practice, Froud sits on two London borough design review panels and is a built environment expert for CABE. Froud co-founded the practice AOC in 2003 and is the practice's head of participation. AOC's work includes the Spa School, Bermondsey, St Saviour's & St Olave's school extension and the Olympic Park red telephone box installations.
4. Julia King 
Working on urban development projects between the UK and New Delhi, King designed and built a sewer for 322 low-income houses in New Delhi. She also designed prototype houses and water kiosks for a Savda Gherra resettlement colony.
5. Hana Loftus, HAT Projects 
Loftus is co-founder of the practice behind the £3.5 million Jerwood Gallery in Hastings, and temporary structures for the reopening of the Olympic Park.
6. Yeoryia Manolopoulou, AY Architects 
Winner of this year's Stephen Lawrence Prize for the practice's Montpelier Community Nursery, AY also completed a small library for Torriano Infants School. Loftus' current projects include the redevelopment of the New Charlton Community Centre in Woolwich.
Montpelier Community Nursery / AY Architects. Image © Nick Kane
7. Aranta Ozeata Cortazar, TallerDE2 architects 
With projects in Germany, Spain, Italy and the UK, Aranta co-founded the practice in 2007 while still a student. Its first built project, a child minding centre, won the International Bauwelt Prize. Other projects include experimental housing in Selb, Bavaria
Childminders Centre (Haus der Tagesmütter) in Selb / TallerDE2 Arquitectos + Gutiérrez-delafuente Arquitectos. Image © Fernando Alda
8. Nicola Rutt, HawkinsBrown 
A partner at the large practice HawkinsBrown, Rutt is currently leading the design team on the redevelopment of the International Broadcast Centre at the Olympic Park for iCITY. She is also behind the transformation of a Grade-II listed warehouse into an office for MTV in Camden.
Winners will be announced at the Awards ceremony on February 7th.