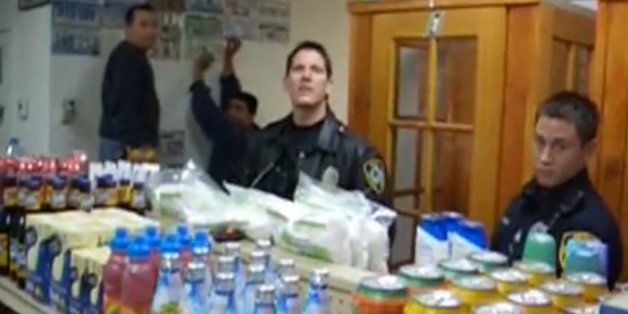 A former Connecticut cop convicted of violating Latinos' civil rights, illegally arresting a priest and making up a crime report to cover up his actions was sentenced to 30 months in prison Tuesday.
David Cari's sentence -- which fell short of guidelines suggesting 33 to 41 months, according to the Hartford Courant -- marked the latest punishment for an ex-cop in the city of East Haven since federal authorities launched a civil rights investigation into allegations of systematic discrimination of Hispanics in 2009.
Cari, 36, is one of four East Haven former cops who were arrested by the FBI in 2012 after an investigation by the Justice Department found the town's police department engaged "in a pattern or practice of systematically discriminating against Latinos in violation of the Fourteenth Amendment" and put the department under federal oversight.
The sentencing for Cari's fellow convicted ex-cop, Dennis Spaulding, was postponed until Thursday due to snow.
The other two former cops -- John Miller and Jason Zullo -- reached an agreement with federal prosecutors in which they pled guilty to crimes unrelated to racial profiling, according to The New Haven Register. Zullo received a jail sentence of two years, while Miller faces sentencing in February.
East Haven's problems with discrimination drew national attention in 2009, when Cari and Spaulding arrested Rev. James Manship without cause. Manship, known for using a handheld camera to document alleged acts of discrimination in the town, had been called by Marcia Chacón, one of the owners of My Country Store to film the arrest of a Latino man there, according to the Hartford Courant.
When Manship appeared and began filming the encounter, Cari arrested him. In an invented report that he changed 27 times, Cari said the priest was holding an "unknown shiny silver object" and refused to give it up after scuffling with the cops.
Manship released the recording of the encounter (see below), undermining the police officers' story.
"He lied, he perjured and it was not a simple mistake," Manship told the court, according to the New Haven Register.
Cari defended himself before receiving the sentence, denying he had targeted Hispanics.
"When I walked into [prison] I was known as that racist cop from East Haven who arrested Latinos, but I want to make clear I am not a racist and have never arrested anyone based on their race," Cari said, according to the Hartford Currant.
East Haven Mayor Joseph Maturo, Jr. released a statement in October saying he hoped the convictions would allow the city to move on.
"Today's verdict is a painful, although important step in the healing process for the Town of East Haven and for the East Haven Police Department," Maturo said of Cari and Spaulding's convictions.
Maturo made headlines in January of 2012 when he told a reporter: "I might have tacos when I go home" in response to a question about what he was doing for the Latino community in light of problems with East Haven police. The comment disgusted many Latino leaders, and Maturo later apologized.
BEFORE YOU GO
PHOTO GALLERY
Latino Winners And Losers In Congressional Elections