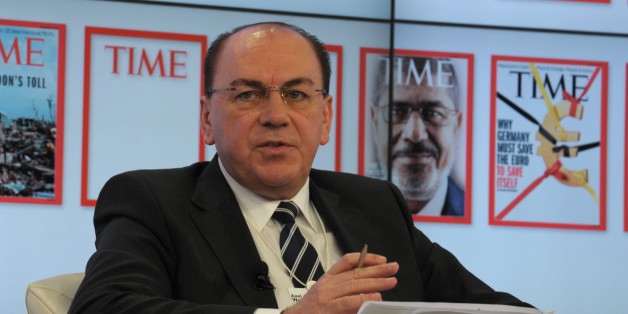 European corporate titans are calling on policy makers to do more to boost the region's struggling economy. And unlike their counterparts in the U.S., they're advocating government investments -- not spending cuts.
"Things feel better in Europe, but policy makers should not be complacent," UBS Chairman Axel Weber said at a panel at the World Economic Forum this week in Davos, Switzerland. Weber was joined on the panel by Martin Sorrell, CEO of WPP, a British advertising company, and Giuseppe Recchi, chairman of Eni, an Italian energy company, according to a WEF press release.
Weber warned that Europe's tepid recovery -- the region's economy is projected to grow just 1 percent this year -- is "lackluster and too one-sided." Other panelists called attention to the region's youth unemployment crisis, warning it may yet get worse.
Without government intervention, jobless youth will be sitting on the sidelines of the labor market for longer and longer, making it harder for them to get back in, the panelists noted. "It is difficult for a company to hire a 30-year-old person without work experience," Recchi said.
The group offered some practical solutions for policy makers, like making sure critical job skills are taught in schools and investing more in technology and education.
This talk of the government spending money to help those who are struggling runs counter to the advice American business leaders are giving policy makers in the U.S. Here, the discussion is all about pushing lawmakers to reduce the deficit. As watchdog groups have noted, it seems a bit hypocritical for wealthy CEOs to advocate cutting entitlement programs while they'll still be able to retire with millions and their companies get billions in tax breaks.
A slew of economic research has questioned the merits of austerity. Meanwhile, some prominent research often touted in favor of austerity has been debunked. In particular, an influential study by Harvard economists Carmen Reinhart and Kenneth Rogoff turned out to be riddled with errors
Ironically, Rogoff was sitting on the Davos panel that called for more government spending.
BEFORE YOU GO
PHOTO GALLERY
What The GOP Doesn't Want You To Know About The Deficit