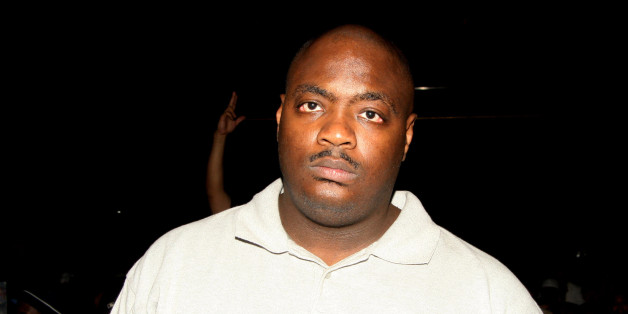 Hip-hop DJ Mister Cee has opened up in an interview in the February issue of GQ magazine about what life was like after a brief resignation last fall from his longtime New York radio gig at Hot 97. The 47-year-old, born Calvin Lebrun, resigned in September amid solicitation allegations after he was recorded giving $100 for unspecified services to a cross-dressing man calling himself "Bimbo Winehouse." He returned to work at the station less than 24 hours later.
Now, Lebrun, known to many listeners as "The Finisher," has shared some details with GQ about the prostitution scandal, as well as an earlier 2010 incident when he was arrested for soliciting a male prostitute. And though Lebrun maintains that he's "absolutely not" gay, he does admit to his interest in "transgender women."
"It's no offense to transgender women, but I only get with transgender women for one thing and one thing only, and that's for oral sex," Lebrun told GQ. "Like I said: I never had sex with a man. I never had sex with a transgender woman."
It's not entirely clear how Lebrun defines "transgender," but he may have been using the term here to describe men who cross-dress. Last September, in an interview on Hot 97, he said, "Occasionally I get the urge to have fellatio with a transsexual, a man that looks like a woman." "Transgender" is an umbrella term used to describe and include people whose gender identity or presentation does not match the one assigned to them at birth. The transgender community includes people who identify as transgender, transsexual, gender nonconforming and genderqueer, among others, and can in some instances include crossdressers and others who experiment with gender.
In the interview with GQ, Lebrun went on to recall the aftermath of his October 2010 arrest. After that incident, he said, he went into a deep depression and looked for comfort in soft drinks.
"I would buy two-liter Fanta Orange, two-liter Sprite, two-liter root beer -- and I live by myself -- just guzzling them," he said. "That's how I was getting through my pain, f**king going to sleep and drinking soda. And I'm not even a soda drinker. I drunk so much soda to the point where my diabetes -- my sugar level went so high, I started getting blind."
As for the idea of a future monogamous relationship, the influential DJ said that he's a bit perplexed on that front.
"At this point in my life, I can't even begin to try to be in a serious relationship with a woman," he said. "That's the point that I'm at now: What do I want? Where am I at? Now that it's out in the open--everybody knows, I know--where am I going from here?"
Read the whole interview in GQ here.
BEFORE YOU GO
PHOTO GALLERY
Hip-Hop Fitness Heavyweights