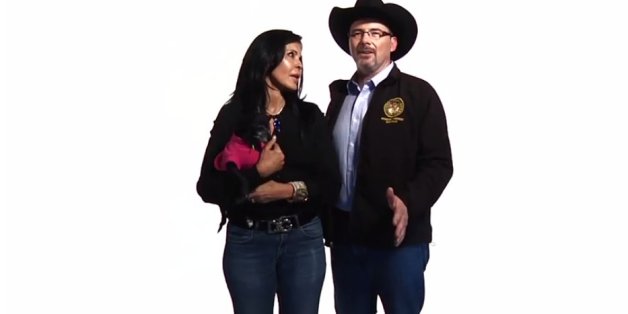 María Conchita Alonso continued to defend her support of immigration hardliner Tim Donnelly in his bid for governor of California this week, but tempered her endorsement of his immigration policies, saying she forgot to Google him in the right language.
"Before doing the video, I Googled Tim Donnelly, but my mistake was to do it only in English, not in Spanish," Alonso told HuffPost Voces. "So I didn't see all that stuff about immigration, about the undocumented."
As a participant with the border vigilante group known as the Minutemen and as a conservative California assemblyman, Donnelly has publicized his hardline positions on immigration primarily in English. Alonso speaks English fluently.
In defending her continued support of the Tea Party hopeful, Alonso said that "since he is not a communist," it is possible to dialogue with Donnelly.
"Before he didn't agree with helping young people who arrived at the age of three and are in university and now he does," Alonso told HuffPost.
On his website, however, Donnelly continues to trumpet his policies aimed at cracking down on illegal immigration.
"While the rest of the legislature was on recess, I spent my vacation leading the campaign to overturn the California DREAM Act, the bill that would give those illegal immigrants free taxpayer funded college tuition money," he says in his website, referring to state-financed student aid. "In my first year in office, I introduced legislation to bring SB 1070, the Arizona Law, to California and stop sanctuary cities -- jurisdictions that refuse to enforce immigration laws."
In a separate interview with CNN published Tuesday, Alonso reframed Donnelly's support of the Minutemen as part of the war on terror rather than border vigilantism.
"After 9/11, he told me that he organized a group of civilians to go protect the border from the invasion, not of Mexicans," Alonso told CNN. "A lot of Arabs and drugs enter through the Mexican border, so what he did was protect us from the people who wanted to come attack us."
Donnelly's first tour with the Minutemen took place not after Sept. 11, but four years later in 2005, according to L.A. Weekly. He joined the Minutemen because of his outrage over illegal immigration, prompted by allegations that a 10-year-old child of Mexican immigrants had sexually harassed a white girl at a California elementary school.
Donnelly elaborated on his ideas about Hispanics and illegal immigration in a 2005 editorial quoted by L.A. Weekly:
We are told the illegal alien is now a resident of our communities, entitled to all the protections of the law, but none of its penalties. We are told that 'diversity' is a goal, and although it is unclear when we will reach this utopian dream, it involves more Hispanics and fewer of everyone else.

"We are told that anyone who does not go along with the above program (or pogromme) is a 'racist,' 'xenophobe' or a 'vigilante.'...

"We are told that raping young girls, marrying extremely young girls, ogling women in an aggressive manner and using a child as a human shield are all cultural differences that we must learn to accept.
The Cuban-born, Venezuelan-raised, U.S.-citizen actress appeared in a campaign video alongside Donnelly last week aimed at reaching Hispanics. The ad, in which Alonso translates Donnelly's far-right policy ideas and jokingly praises the candidate's testicles, produced the opposite effect.
Alonso's endorsement of the immigration hardliner outraged many Latinos, and the actress said she received a string of insults and threats after the ad's release.
The ruckus prompted Alonso to back out of a Spanish-language performance of the Vagina Monologues in the San Francisco's heavily Hispanic Mission District after irate residents threatened to boycott the play.
Watch the campaign video that started the ruckus below.
BEFORE YOU GO