 "Will & Grace" has been off the air for eight years -- long enough to accept the fact that Megan Mullally does not speak with the same high-pitched rancor we came to adore in Karen Walker, her character on the beloved NBC comedy. With two Emmys and four Screen Actors Guild Awards to her name for "Will & Grace," it's impossible not to feel like Mullally is synonymous with Karen.
But, unlike many actors, she isn't afraid to embrace her most celebrated role. For a performer whose other credits include sitcoms like "Seinfeld," "Frasier," "Just Shoot Me!" and "The New Adventures of Old Christine," the actress' comedic penchant is palpable but not overpowering.
The same can be said of her small role in "G.B.F.," which opened in select theaters on Jan. 17. Mullally plays the mother of a newly outed gay teenager ("The Hard Times of RJ Berger" star Paul Iacono) who feels abandoned when his best friend (Michael J. Willett, from Showtime's "United States of Tara") becomes the popular girls' most in-demand toy after a magazine declares the G.B.F., or gay best friend, the year's most fashionable trend. Co-starring Natasha Lyonne, Sasha Pieterse, Andrea Bowen, Horatio Sanz and "Harry Potter" alum Evanna Lynch, "G.B.F." premiered at the Tribeca Film Festival last year.
HuffPost Entertainment discussed the movie with Mullally by phone while she was at Los Angeles International Airport, snagging some tidbits along the way about husband Nick Offerman's famous woodworking, her impending "Sean Saves the World" reunion with "Will & Grace" sidekick Sean Hayes and which of her '90s-sitcom co-stars she'd most like to sleep with.
In keeping with the movie's theme, do you have a G.B.F. yourself?
Well, Sean Hayes. I mean, come on. I have a few G.B.F.s, but he would be the most prominent.
That's what we wanted to hear you say anyway. What are the qualities of a good G.B.F.?
Well, I think Sean would be a good S.B.F., too, ya know. He's just a really sweet, funny person who is easy for me to talk to. Actually! Fun fact: Nick Offerman and Sean Hayes have the same birthday. Same day, same year, within about a 50-mile radius of each other, at the same time of day.
No way.
Way.
When it's time for their birthday, do you divide your day between them?
Sean has his man, and I have my man. We generally let our significant others, or they let their significant others, celebrate them. But there's always a flurry of emails and texts and snide old-age remarks.
When you were in high school, were any girls pining for a G.B.F.?
Well, no, because there were no out gay people in my high school. There were also no black people or Hispanic people or Jews. I grew up in Oklahoma City and I went to a very strict Episcopalian private school where we wore uniforms and had to take Latin. You know, I'm in my 50s, and nobody was coming out like today back then anyway. I would do musicals during the summer, and I would have these desperate, desperate crushes on these guys. It never occurred to me in a trillion years that they were gay as the day is long. It never occurred to me. I would be weeping with love over these guys. They would just kind of smile sadly at me, and I didn't understand.
Thanks to "Will & Grace," you're known as a strong ally for the gay community. Would you have taken a role where the parent of a gay teenager wasn't supportive?
Would I take a role where the parent wasn't approving? Yeah, probably not. I haven't been offered anything like that, and I guess it would just depend on the script and what the ramifications are, like how well it's written. And maybe it would be great to play a role like that to show how fucked up that is. It doesn't seem appealing when you say it, but if it was some really interesting, cool script, it might be great to show.
Since you're both musicians, when I think of you and Nick Offerman together, I picture a nightly jam session in your living room.
That's exactly right.
Do you guys jam together at home?
That is so funny. I'm sitting here in the airport with my ukulele sitting right next to me. I'm bringing it with me.
Naturally.
Yeah, it's pretty funny. No, we don't really do that, but he sometimes comes on as a surprise guest with my band, Nancy and Beth, and then sometimes Nancy and Beth has opened for him, for his "American Ham" show. And then we do some songs with him, so we have done that. We are hosting the awards for Sundance next weekend, and I think we're going to be doing something together musically. I'm not sure what yet. But we don't really stroll around the house like wandering minstrels, although that might be next because I just taught myself to play jazz ukulele, and Nick plays guitar, so we may have, like, dueling banjos or something. Please post YouTube videos of that. Or maybe start a web series.
Yeah, definitely, we'll just rig our entire house up with cameras so that you can just get the full experience, 24/7.
In the course of Nick's extensive woodworking, has he ever made anything that you've looked at and said, "There is no way we are putting that in this house"?
[Laughs] That's so funny. No, he's made some really beautiful things, though: our dining-room table and various tables all around the house, a desk. We have a desk that we share. We actually share an email address and a desk, so it doesn't get any queerer than that. And by queer, I mean dorky, not gay. So yeah, that's pretty sad. When we first got our shredder, I was so into the shredder, like I was in love with the shredder. He made me a wooden case for the shredder that's very chic. Like, the shredder fits inside this thing he made. It's a perfectly fitted sort of cover for the shredder. But he's never made anything that I was like, "Ummm, no."
When you film your guest stint on "Sean Saves the World," don't you just want to walk on the set and act like Karen Walker? What can we expect?
Sean asked me what I thought, and I sent him a few ideas of what I thought might work because they desperately want to avoid any kind of Jack-and-Karen similarities. The network's very nervous about that, so my character is going to be very non-Karen-esque. But I wanted there to be that same fun dynamic and have the ability to have a lot of physical comedy, so what I pitched to them hopefully will accommodate that. They haven't written a script yet, I don't think. It will be set up in a way that I think we can have a similar dynamic without the characters being the same.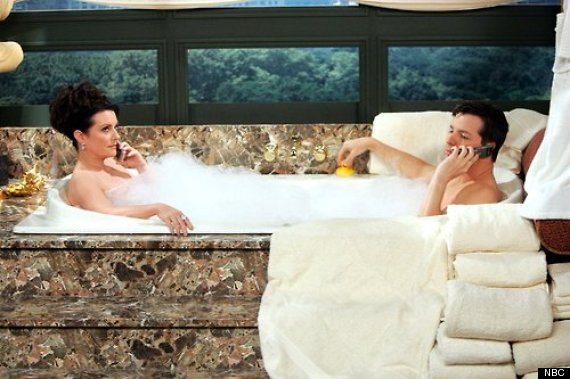 We're all looking forward to seeing you two together again.
Aw, that's so nice, thanks. I'm looking forward to working with Sean, and a lot of our "Will & Grace" people are working on that show, so I think it'll be really, really fun.
You had a wonderful string of guest roles in the '90s, so I'll ask you to kill, marry and bang three of your sitcom co-stars: Jason Alexander, David Spade and Kelsey Grammer.
Kill, marry and bang? Bang David Spade, that's easy enough. Marry … marry … marry Kelsey Grammer. Yep, guess Jason Alexander's getting the ax. That's my gut response. He's just being sacrificed. It's just a numbers game.
That's right, and people have to go. There's not room for everyone.
Yeah, I mean, it's like "Survivor" -- somebody's got to be eliminated.
BEFORE YOU GO
PHOTO GALLERY
Megan Mullally