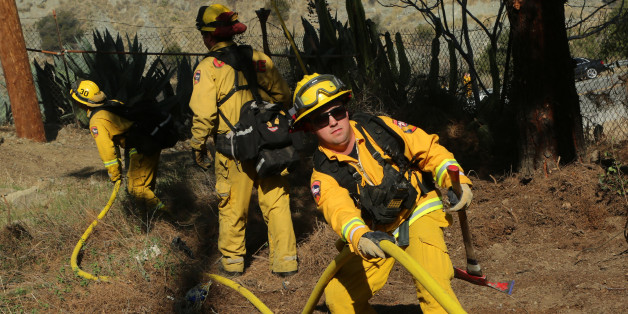 LOS ANGELES, Jan 21 (Reuters) - Three men were charged in federal court on Tuesday with setting an illegal campfire that ignited a blaze which has since grown to nearly 2,000 acres in the foothills near Los Angeles, but is largely under control.
Steven Robert Aguirre, 21, Jonathan Carl Jarrell, 24, and Clifford Eugene Henry Jr, 22, were arrested on Thursday shortly after the fire broke out in the Angeles National Forest north of the Los Angeles suburb of Glendora.
They were escaping the flames when they were taken into custody by Glendora police. Aguirre and Jarrell are homeless and Henry lives in Glendora, U.S. prosecutors said in a statement.
The men were charged on Tuesday in U.S. District Court in Los Angeles with unlawfully setting timber on fire, and each faces a maximum penalty if convicted of five years in prison. They face charges in U.S. court because the Angeles National Forest, where the blaze broke out, is federal land.
They are due to appear in court on Wednesday for an arraignment. The three men told police and arson investigators that together they started a campfire and wind blew burning paper into the brush, igniting what authorities would later call the Colby Fire, prosecutors said.
The place where the three men started the campfire is not designated for camping, Glendora police have said. The area had at the time been under a red flag warning, which is an advisory from the National Weather Service that says dry conditions are ripe for a wildfire to break out.
The Colby Fire has burned 1,952 acres (790 hectares) and is almost entirely contained, after having destroyed five homes, authorities said on the Incident Information System, a government website for tracking wildfires. About 300 firefighters are still deployed against the blaze. (Reporting by Alex Dobuzinskis; Editing by Eric Walsh)
BEFORE YOU GO
PHOTO GALLERY
Wildfires Out Of Control