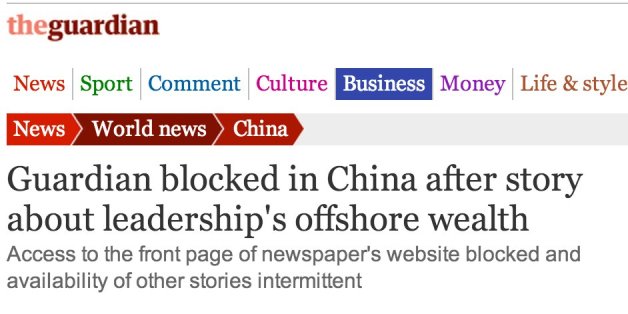 The Guardian and several news organizations had their websites blocked in China Wednesday after publishing stories revealing that China's president and other top political leaders have used offshore holding companies.
The Guardian said its website was "partially blocked" after publishing this report accusing president Xi Jinping's brother-in-law, former premier Wen Jiabao's son and son-in-law, and more than a dozen others of transferring money overseas. The information came from leaked documents detailing financial records from the British Virgin Islands.
The International Consortium of Investigative Journalists (which first received the leaked documents), Australia's Global Mail and the Spanish website El Pais have also been blocked, according to the Independent.
The news outlets join The New York Times and Bloomberg, whose websites were blocked in China following stories about the financial ties of Chinese leaders in 2012. The news comes just two weeks after The Guardian was unblocked in China following service disruptions. The websites for Reuters and the Wall Street Journal were also blocked last year, but appeared to have been unblocked earlier this month.
"I am not aware of the specific circumstances," a spokesman in Beijing told reporters at a foreign ministry briefing about the latest decision. "From the point of view of readers, the logic of some of the related articles is unconvincing, and it leads people to suspect the intentions behind it."
Tensions between China's government and foreign press have also been high following the delay in renewing journalists' visas. Earlier on Wednesday, several journalists from BBC and CNN were manhandled and detained by Chinese officials for reporting on the trial of Xu Zhiyong, a Chinese activist against government corruption.
(h/t: Independent)
BEFORE YOU GO
PHOTO GALLERY
Chinese Newspapers