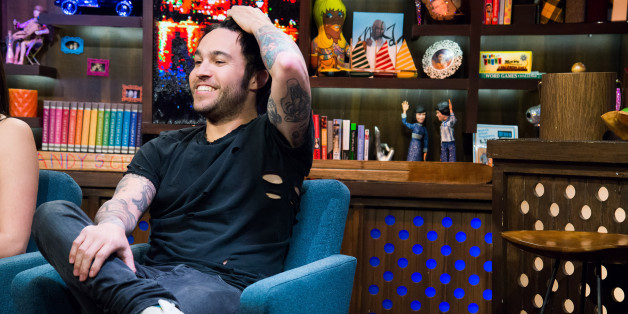 Pete Wentz appeared on "Watch What Happens Live" Monday night (Jan. 20) and revealed some pretty intimate details about how he's chosen to decorate his body. Hint: he's known to have gone a little too far … down.
The "Fall Out Boy" star is well known for his edgy look, so it didn't come as a huge shock when a fan asked if he'd ever dared to get a piercing below the waist. Wentz carefully explained that he has "had basically everything pierced in [his] entire life." Leaving nothing to the imagination, the rocker added that he has had his private parts pierced, but has since removed the ornament.
"I was young and dumb and full of 'wisdom.' It's not pierced anymore," Wentz justified.
Wentz is currently the host of Oxygen's "Best Ink," which pins top tattoo artists against one another in head–to–head challenges. The host isn't shy about his affinity for tattoos, in addition to his previous piercing experimentations. He recently told Wendy Williams on her show that he has "a bunch" of tattoos. However, the daring star draws the line at inking up his hands, neck and face. "Ones on your hands and your neck are usually called 'job-stoppers,' so I'm still hoping that I could end up being an accountant or something if it all goes wrong," he joked.
That seems like a surprising amount of caution for someone who has allowed a needle to pierce his, ehem, package.
Despite disclosing what many would consider an overshare, Wentz maintains that he is a fairly private person. In describing his body art to promote "Best Ink," the rocker explained that he used to be very anxious and agoraphobic. He has a tattoo of a keyhole on his wrist to remind him that he doesn't have to share his entire life with the public.
If he's willing to expose these intimate details, we wonder what exactly he's keeping under lock and key.
BEFORE YOU GO
PHOTO GALLERY
Celebrity Tats: From the Weird to the Bizarre