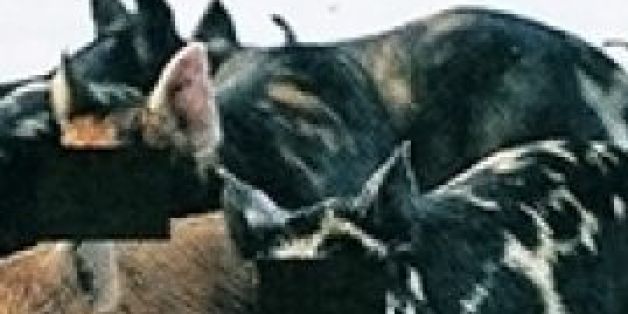 Pigs were the target of censorship in The International New York Times on Wednesday.
KHL Printing Co., which prints the newspaper in Malaysia, blacked out the faces of pigs in two photos accompanying an article.
Netizens mock censored faces of pigs in Malaysia edition of @NYTimes http://t.co/W2kkuX5yji pic.twitter.com/ZOKHxySj0y

— TODAY (@TODAYonline) January 22, 2014
In Malaysia, photo of pigs in New York Times threatening enough to warrant censorship pic.twitter.com/Dd4yy0grj1

— Jason Ng (@ByJasonNg) January 22, 2014
The edits were ridiculed by Malaysians and non-Malaysians alike:
FACEPALM. http://t.co/DxN4S6w0X0 Salah ke, for readers to look at pigs? Are they not God's creations, too?

— Rae (@seapig) January 22, 2014
If you are going to be offended about pigs, perhaps you should not read the NYT in the first place. http://t.co/w1PtWqDhoW

— Syahredzan (@syahredzan) January 22, 2014
NY Times article gets "hogged" by stupid censorship. Only in Malaysia.

— Peter Cheong (@petercheong10) January 22, 2014
An employee told the AFP news agency that the company was merely following standard protocol in Malaysia, where Islam — which considers pigs unclean — is prevalent. "This is a Muslim country, so we covered the pigs' eyes," he said. He added that images of "cigarettes, weapons, guns and nude pictures" in The International New York Times also get censored.
The company noted that the government did not order it to edit the photos, according to the Malay Mail Online.