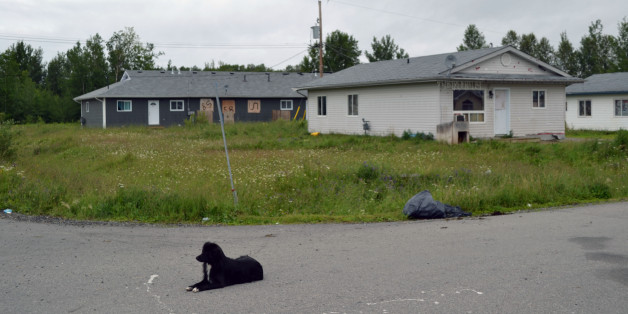 LONG LAKE NO. 58, Ontario -- Along the remote stretch of highway that connects this northern community to the rest the world, it's easy to distinguish the haves from the have-nots.
The aboriginal groups who first inhabited this region once sold furs and fish, but clear-cutting and water pollution have put an end to that. About 400 of their descendants now live in the Long Lake No. 58 First Nation reserve, where the homes are dilapidated, about 70 percent of residents are unemployed, and there's just one business -- a gas station.
But now those on the reserve are poised to gain from a surge of investment to their area, following the discovery of a $50-billion mineral deposit that has been dubbed "The Ring of Fire." It's the biggest resource development Ontario has seen in more than a century, often referred to as "Canada's next oil sands." The prospect of a mining project fills people here with a mixture of anticipation and concern.
Around the globe, the discovery of precious resources has proven both a blessing and curse for native people. They have sometimes tapped riches via profit-sharing and employment opportunities, but they have also seen the toll that mining takes on land and wildlife, disrupting subsistence economies. In Alaska, the pursuit of oil has brought development and jobs to some of the poorest, most remote settlements in the U.S. But it has also left bitter feelings among the people whose ancestral lands have been devastated by the crude rush.
From Greenland to Australia to Nigeria, mining companies often encounter opposition and roadblocks from the native communities that sit on mineral-rich land. And the clash is expected to become more pronounced in the coming years as indigenous people increasingly see their rights enshrined at national and international levels and exercise them more effectively.
Sixty percent of future resource reserves are on indigenous land, according to a study of 370 projects around the world by the advocacy group First Peoples Worldwide. Resource companies are expected to push into more remote regions and indigenous lands, which cover about 20 percent of the earth's land mass but contain 80 percent of the remaining biodiversity, the group says.
The United Nations Declaration on the Rights of Indigenous Peoples, adopted in 2007, binds signatory countries to "free, prior and informed consent" of indigenous people for all decisions that could affect their land. Last year, the International Council on Metals and Mining called on its member mining companies -- some of the world's largest, including Barrick Gold, Rio Tinto, Newmont and BHP Billiton -- to integrate "free, prior and informed consent" into their policies.
Still, the study suggests that such nascent policies have so far not been taken seriously in the resource extraction industry.
"What we've been seeing is too much rape and pillage as a legacy of a corporate neighbor," said Rebecca Adamson, a Cherokee economist and founder of First Peoples Worldwide.
A majority of the 52 oil, gas and mining companies studied were ill-prepared to engage and work with indigenous people -- a whopping 90 percent of them had no clear policy for indigenous people at all. The moral imperative alone has not been effective in forcing companies and governments to respect indigenous rights, Adamson said.
The group aims to prove to companies that there are good financial reasons to accommodate aboriginal communities, namely avoiding protests, bad press and legal battles as well as protecting their bottom line and share price.
"Companies themselves are beginning to recognize this and there's a clear sense we can't continue business as usual," she said. "At the same time, not enough has changed."
But now, Adamson believes the time is ripe for indigenous groups to change corporate behavior and shift business models toward genuine collaboration. Companies have seen how court challenges and protests can shut down a lucrative project.
"The private sector is in a period of huge, huge change right now," she said. "And we have the time and opportunity as a society to try and get the changes we know we need."
Fair agreements for native people living on resource-rich land also have the potential to improve their living conditions. Indigenous people make up about one-third of the world's 900 million poor rural people and suffer disproportionately high rates of crime, poor health and human rights abuses around the world.
Now, the future of the aboriginal communities in Canada's "Ring of Fire" region hinges on whether resource development will prove to be a path toward economic growth or another instance of development at their expense.
The people on the Long Lake No. 58 reserve are worried about the transport of chromium concentrate through their territory and how the mining could degrade their land. But in the telling of many people here, the development also presents a real opportunity for community members to participate through contracts and joint venture partnerships with established businesses. It could prove to be one of the most transformational stretches of highway in Canada's history.
Eric Jacob, 38, lives on the Webequie reserve in the "Ring of Fire" zone and can sound off a list of things he wants mining investment to bring to his community. A restaurant. A better road. With a decent road, he could haul away an unsightly heap of valuable scrap metal that's been accumulating for years.
"I mean I have a lot of ideas," he says. "But that's where the dead end is."