 A Wisconsin lawmaker took to Facebook to voice her frustrations during Gov. Scott Walker's (R) State of the State address on Wednesday evening.
State Rep. Christine Sinicki, a Democrat from Milwaukee, repeatedly posted to her Facebook page during Walker's speech. The messages were highly critical of the Republican governor's address.
"OMG...this speech is so full of shit. Wish I could get up and walk out," Sinicki wrote.
"Bottom line..the rich get richer and the poor and middle class continue to get kicked in the butt," she wrote in a second status update.
Later, after news reports emerged highlighting Sinicki's remarks, she again took to Facebook to defend her remarks, and clarify that her intent was not to attack Walker himself, but his message: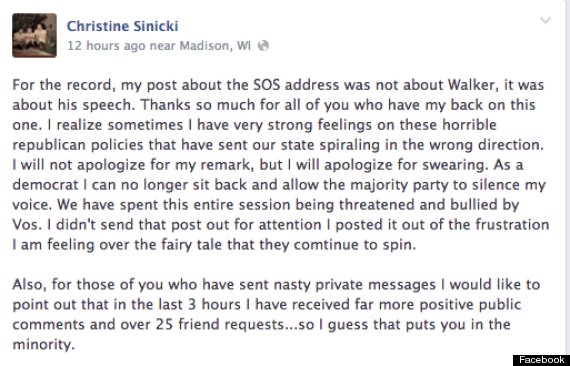 Source: Sinicki's Facebook page
According to the Wisconsin State Journal, some of her colleagues criticized her candid remarks.
"What a disappointment. She should be embarrassed," Assembly Speaker Robin Vos (R) said. "I can't even believe that. That frustrates me. She should definitely apologize to her constituents. They sent her here to do a job, not have a tantrum."
(h/t Journal Sentinel)
BEFORE YOU GO
PHOTO GALLERY
Political Potty Mouths