 Derrick Coleman wasn't supposed to be here.
It wasn't because the 23-year-old Coleman, who plays fullback for the Seattle Sehawks, wasn't good enough. It was because offensive deaf players simply hadn't existed in the NFL before his arrival. But on Dec. 2, 2013, Coleman caught a ricocheted pass from quarterback Russell Wilson while facing the New Orleans Saints, scoring his first NFL touchdown. The crowd went crazy for one of the wildest plays of the season.
If there was any remaining doubt about whether a deaf player could thrive at the highest level of pro football, it was quelled. Coleman, in turn, cemented himself as a valuable member of the Seahawks -- and not just an uplifting story. On Feb 2., he'll take history a step further when he plays in the Super Bowl against Denver, as he continues his first season as the first legally deaf person to play offense in the NFL. (The very first deaf player, Bonnie Sloan, played defensive tackle for the St. Louis Cardinals during the 1973 season.)
"My biggest challenge is to persuade people [with] that perception that if I can't hear, how am I going to be able to do different things?" Coleman tells The Huffington Post. "That perception is not true. Basically, it's not real. We can do everything you guys can, probably more. Just because we have hearing aids doesn't mean anything. There are a lot of doubts in people's minds. ... At the end of the day, it's worth every second disappointing [those doubtful] people."
Growing up in Fullerton, Calif., Coleman's football career got off to a frustrating start. Playing in the seventh grade, his hearing aids would keep falling out after getting hit. And when he got sweaty, they didn't work well. Coleman and his mom devised a solution of wearing two skull caps -- something he still does today. In high school, his talent was clear to recruiters, and he accepted a scholarship offer to start at nearby UCLA.
Coleman had a terrific four-year career at the school, only to go undrafted in 2012 after being invited to the NFL Draft Scouting Combine -- leaving some experts wondering if general managers and teams were hesitant to select a deaf player. After eventually signing as an undrafted free agent with Minnesota, Coleman was cut. Undeterred, he went back to work, earning a contract with the Seahawks and making the 53-man roster in 2013. Coleman, who both reads lips and uses hearing aids on and off the field, remained undaunted. He makes it a point to keep his helmet lowest in the huddle, so that he can use his hearing aids to hear the play from quarterback Russell Wilson, and constantly stays close to offensive coordinator Darrell Bevell on the sidelines.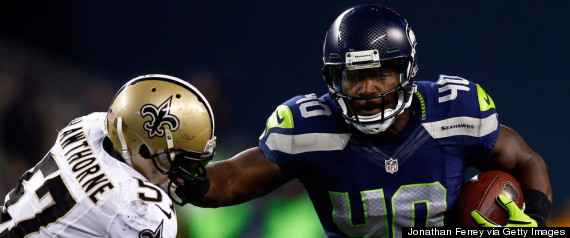 In addition to his NFL career, Coleman takes time to speak to young children about achieving success despite obstacles. "When people tell me I can't do something," he says, "I'm going to work hard to do it."
It's that doubt, he says, that is difficult."Those are where the biggest challenges are," he says. "People don't really understand you." Coleman tries to impart this to kids in his talks, he says.
Coleman has also made it clear that his deafness is neither an excuse nor a crutch. He's quick to point out that if he misinterprets a play, it wasn't because he didn't understand it, but rather because he didn't know where he was supposed to be.
"I don't ever use my hearing as an excuse," he says.
Coleman is young enough in his NFL career that it's hard to predict how his future will unfold, but there's no doubt he will continue to inspire fans and teammates as he proves that being deaf isn't something to "overcome" -- it can be an advantage when it comes to perseverance.
"I've got to work extra hard," he says. "If you really want something, you're going to work extra hard already. No matter what the obstacle is -- hearing loss, or you can't speak, or whatever the problem is -- there's always a way, and you can always go for your dream or whatever you want to do."
Oh, and if his football career doesn't work out? Coleman says he'd lean on his degree in political science, either to enter the police academy or attend law school. At this point, it would be foolish to think that his hearing, and not his perseverance and work ethic, would set him apart in those fields either.
Correction: A previous edition of this article incorrectly stated that Coleman's touchdown against the Saints occurred on Dec. 22. It actually occurred on Dec. 2.
Email me at jordan.schultz@huffingtonpost.com or ask me questions about anything sports-related at @Schultz_Report and follow me on Instagram @Schultz_Report. Also, be sure and catch my NBC Sports Radio show, Kup and Schultz, which airs Sunday mornings from 9-12 ET, right here.