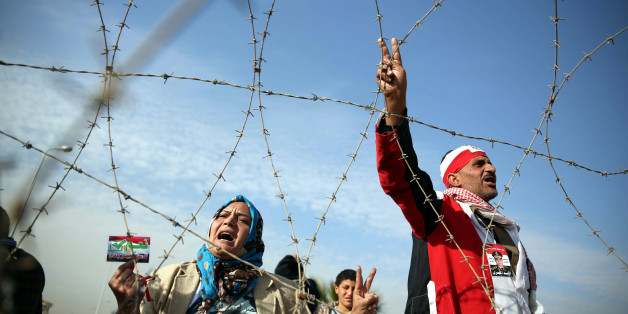 CAIRO, Jan 23 (Reuters) - Egypt has seen state violence on an "unprecedented scale" since the army deposed Islamist President Mohamed Morsi last July following mass protests against his rule, Amnesty International said in a report on Thursday.
Interim Prime Minister Hazem el-Beblawi, speaking at the World Economic Forum in Davos, responded by saying critics were projecting "a distorted picture" by ignoring attacks on the security forces that have spiked since Morsi's removal.
The Amnesty report came out two days before the third anniversary of the mass uprising that toppled President Hosni Mubarak in 2011.
It said the authorities "quash dissent and trample on human rights" with mass arrests, curbs on the freedom of expression and a new law that severely limits the right to protest.
About 1,400 people have been killed in political violence since army chief Abdel Fattah al-Sisi ousted Morsi, mostly due to "excessive force used by security forces", the international human rights group said.
Since Morsi's removal, lethal shootings and bombings targeting the police and army have also become commonplace. The state has declared itself to be in a war on terror.
"There has been a distorted picture lately ... a fixation on activists going to prison," Beblawi said during an interview with CNN's Fareed Zakaria as part of the official WEF programme.
"There are killings of police. No one talks about it. There is no balanced picture," he said.
In the latest attack, masked gunmen riding motorcycles killed five Egyptian policemen at a checkpoint south of Cairo on Thursday, the Interior Ministry said.
Interim head of state Adly Mansour, addressing a gathering of policemen in Cairo on Thursday, said the state would win in the battle with militants, likening it to the violence waged against the state by Islamists in the 1990s.
He also said Egypt was "entering a new era" that would once and for all end "a police state".
On Aug. 14, the bloodiest day since Morsi's ousting, security forces stormed pro-Morsi protest camps in Cairo with bulldozers, using live ammunition and killing hundreds.
Thousands more have been arrested, including most of the leadership of Morsi's Muslim Brotherhood, which the government declared a "terrorist organisation" on Dec. 25. The group denies using violence.
Egypt's interim government says it is committed to democracy and human rights. It accuses the Brotherhood of carrying out acts that threaten national security.
Amnesty said: "Security forces have been given free rein to act above the law and with no prospect of being held to account for abuses."
Activists who are seen as symbols of the 2011 protest movements against Mubarak have been jailed for breaking a law introduced last November that makes demonstrations without prior police approval illegal.
Several journalists connected with the Qatar-based Al Jazeera media network, whom the government views as sympathetic to the Brotherhood, have been detained. Al Jazeera's Cairo offices were shut last July.
"There is a concerted effort underway to squeeze out any independent observers, from activists, to journalists, to non-governmental organisations," said Hassiba Hadj Sahraoui, deputy director of Amnesty's Middle East and North Africa programme. (Reporting by Shadia Nasralla; Editing by Sonya Hepinstall and Raissa Kasolowsky)
BEFORE YOU GO
PHOTO GALLERY
Clashes In Egypt